Self-Cleaning Crossbelt Magnets
Self-Cleaning Crossbelt Magnets for Heavy Duty Applications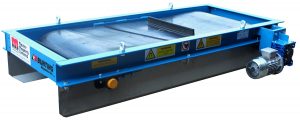 Bunting's Self-Cleaning Crossbelt Magnets have a worldwide reputation as being the most effective, efficient, and reliable magnetic separators for the continuous removal of tramp ferrous material from a product stream.
These crossbelt-style magnetic separators protect, clean, and separate materials being processed through a variety of applications in the recycling and quarrying industries. They are most commonly used on mobile crushing machinery, but their rugged construction makes them ideal for any tough environment. In order to best suit your application, we offer both permanent magnet and electromagnetic models of our Self-Cleaning Crossbelt Magnets.
Get Custom a Quote  
Benefits of Bunting Self-Cleaning Crossbelt Magnetic Separators:
Overall low operating costs keep your facility moving and your budget in check.
Self-cleaning mechanism minimizes downtime and greatly improves operational efficiency.
Designed to be virtually maintenance free, reducing costs, downtime, and stress.
Advanced safety features protect your employees as well as the equipment in your facility.
Equipment can be custom designed to suit almost any application, including yours.
Versatile mounting options facilitate ease of installation.
Both permanent and electromagnetic options available.
Your Environment is Tough. Bunting is Tougher.
Recycling, aggregate, mining, and mineral applications are tough jobs that provide many challenging factors. Bunting has designed our equipment to deliver powerful magnetic separation, but also to provide you with a reliable, long-lasting product that you can count on. The entire system is designed for durability and capable of operating in even the harshest environments.
–Powerful magnet block is mounted in a heavy-duty steel frame.
–Magnet is traversed with heavy-duty, vulcanized, cleated belt running on two crowned pulleys.
–Electric or hydraulic motor options available to best suit your application.
–Stainless steel magnet and belt guards run full length of equipment to protect the system and ensure safety of workers.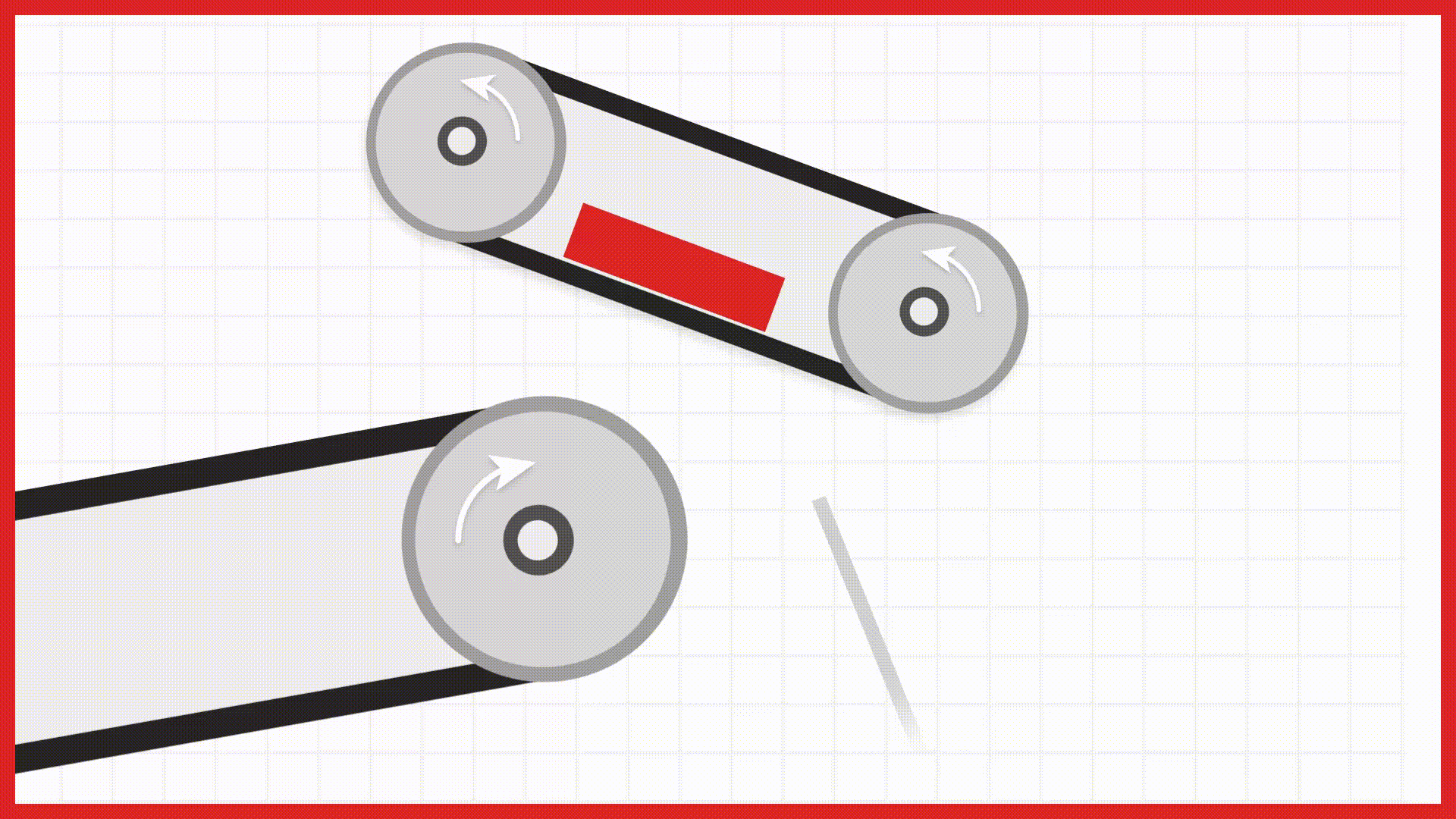 Permanent Crossbelt Magnetic Separator 
Permanent crossbelt magnetic separators are a cost effective solution for a wide range of industries. Bunting's line of permanent crossbelt magnetic separators was designed to meet the unique needs of recycling and quarrying applications, and they were the first crossbelt magnets designed specifically for use on mobile crushers.
This lightweight magnetic separator has extremely low running costs, as the permanent magnet requires no power source in order for the magnet to operate. Its self-cleaning design reduces downtime to a minimum, significantly increasing efficiency in your facility. All models are designed to be virtually maintenance free, saving you the expense of lost production time.
Bunting's permanent crossbelt magnetic separator is excellent for applications that require a magnet to operate at up to 15 ½ inches above a conveyer. These separators are available in standard models suitable for operation over 5 to 78 ½ inch conveyor belts, and Bunting offers extensive custom design options to suit larger conveyor belt widths. Additional support structures are also available.
Get Custom a Quote  
 Electro Crossbelt Magnetic Separators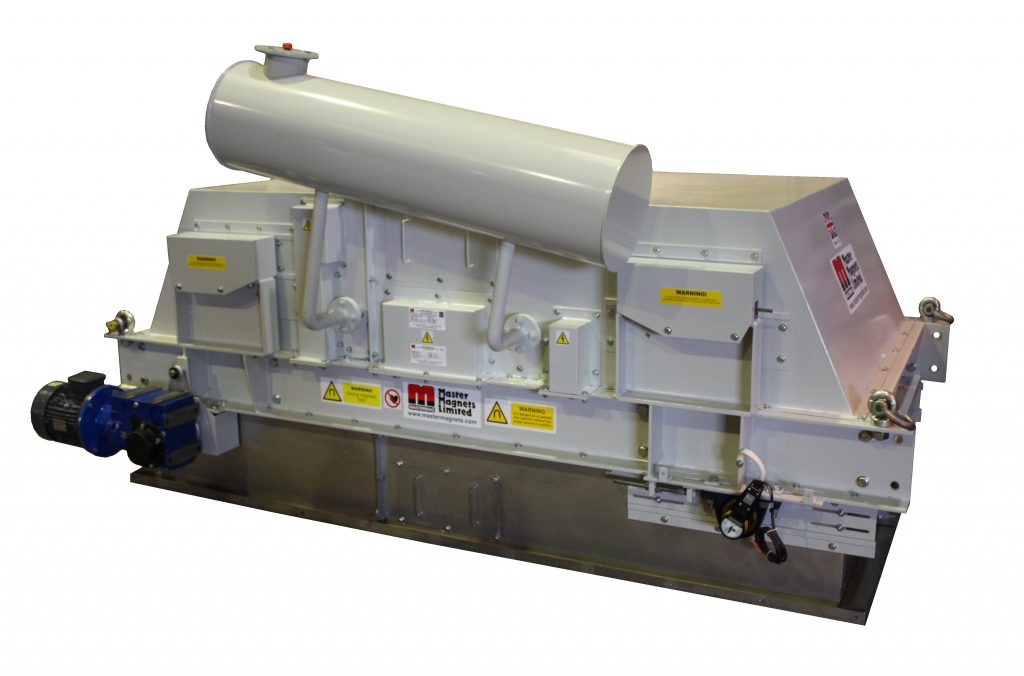 Bunting's Heavy-Duty Electro Crossbelt Magnetic Separators are the most powerful crossbelt separators available from Bunting's current range of products. A wide range of sizes are available for this type of separator, with the largest weighing over 38 tons and spanning over a 6 ½ foot conveyor. This separator possesses extremely high magnetic strength, and can work at the increased operating gap necessary to extract ferrous material from deep troughed conveyors.
Most commonly, these electro crossbelt magnetic separators are utilized by the aggregate, mining, mineral, and recycling industries. They are typically positioned across conveyor belts or inline over the head pulleys. These separators are available in standard models suitable for operation over 5 to 78 ½ inch conveyor belts, and Bunting offers extensive custom design options to suit larger conveyor belt widths. Additional support structures are also available.
Bunting offers both oil cooled and air cooled heavy-duty electro crossbelt separators.
Oil cooled heavy-duty crossbelts are the most commonly used between the two types. Oil cooled systems efficiently maintain an optimum working temperature and are capable of producing a higher magnetic force than equivalent air cooled models.
The air cooled option is used in applications where a customer does not wish to use oil due to a customer's preference, often based on health and safety considerations such as reducing the risk of a fire hazard.
Belt Options
An armored belt can be fitted as an optional extra in order to give the crossbelt magnet a longer belt life when handling abrasive materials. Heat resistant belting is also available, allowing for operation at higher ambient temperatures.
Get Custom a Quote  
Versatile Mounting Options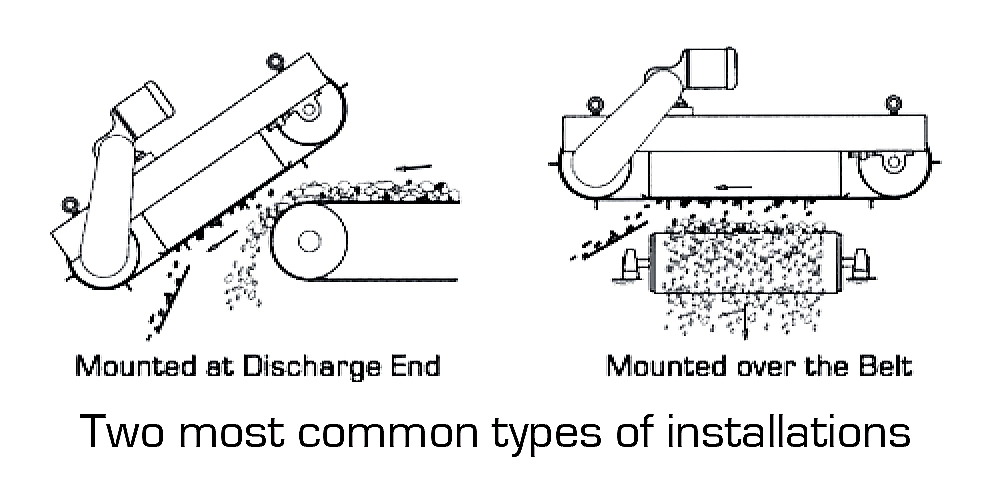 Typically, crossbelt magnets are suspended by their eyebolts over the conveyor at a specific distance known as the "working gap." The working gap is the distance from the magnet face to the bottom of the material being processed.
Normal suspension options include being suspended from a goal post, A-frame, or 4-poster type steel structure. These options are available for both crossbelt (perpendicular to the conveyor processing the material) and in-line applications (same direction as the conveyor and over the head pulley). When tramp ferrous materials pass underneath the magnet, they become attracted to the face of the magnet. Then, the cleated belt moves the metals clear of the conveyor burden, transports it out of the magnetic field, and discharges it away from the conveyor.
ElectroMax Compact Air Cooled Magnetic Separator
The new ElectroMax Crossbelt Magnet from Bunting features a smaller, lighter, and more compact system without any compromise in separation performance. Learn more about the ElectroMax and click here.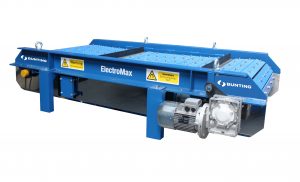 Get Custom a Quote