In-Line Magnets
In-Line Magnets for Gravity or Pneumatic Systems
Gravity and Pneumatic In-Line Magnets feature full-flow architecture that leaves the product stream unobstructed. Tapered transitions guide material directly over the face of the hinged plate magnet, which swings away from the housing for quick external cleaning. Rare Earth Magnets are standard, but other options are available.
For

Same-Day Shipping

 Buy Here
Metal-Detectable Gaskets and Grommets are standard in housing of In-Line Magnets.
Gravity In-Line Magnets
These magnets allow you to utilize our powerful Plate Magnets in round, sloping spouting where material is under gravity flow. For effective tramp capture, spouting should be angled no more than 60° from horizontal. Finishes available include food and sanitary.
Pneumatic In-Line Magnets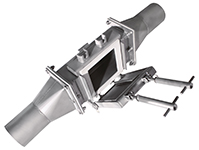 Pneumatic In-Line Magnets are built for use in dilute phase pneumatic conveying systems. They can be installed easily with optional factory-supplied compression couplings and work best in horizontal runs with the plate magnet down to take advantage of material stratification.
•     Designed for unobstructed product flow.
•     Compression couplings speed in-line installation.
•     For dilute phase conveying up to 15 psi.
•     Best suited for horizontal installation, portable cart available.
•     Powerful magnetic field covers entire cross-section of product flow.
•     High-energy rare earth tapered step plate magnets are standard.
•     Magnet swings out for easy cleaning. 
•     All finishes available including food and sanitary.
Center-Flow Magnets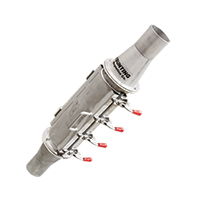 Center-Flow In-Line Magnetic Separators are engineered to remove ferrous fines as well as larger pieces of tramp iron from dry particulates as they travel through dilute-phase pneumatic conveying lines.
To achieve optimum contact with the product flow, a conical magnet is suspended in the center-line of the housing. This tapered, exposed-pole cartridge has a stainless steel "nose cone" to direct the flow of materials around the magnet. The magnet's tapered poles allow ferrous fines to collect out of the direct air stream, and the trailing end of the magnet is an active pole so that any tramp metal that might be swept down the cartridge will collect there.
•     Installs easily in any position.
•     Placement in vertical run makes optimum use of magnetic field.
•     For dilute phase conveying up to 15 psi.
•     Durable stainless steel nose cone directs material around magnet.
•     Unclamp the cover and remove the magnet for cleaning.
•     High-energy rare earth magnets are standard.
•     Optional Clear View Inspection Port.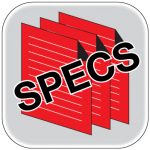 In-Line Magnets – Technical Specifications
---
Get in touch with one of our experts to find the right in-line magnet solution for your application — call (800) 835-2526, or reach out to our sales team.