Plastic Container
Equip your Dry Offset Press with Magnetic Cylinders

Give your existing press a profit-making upgrade. Enhance productivity and quality simultaneously with Bunting® Magnetic Cylinders matched to your dry offset press and its exact dimensions. Our cylinders are custom built to your specifications. Plates mount quickly, often without removing cylinders – even on plastic side-wall and lid printers. Available with standard scribe-lines or optional pin registration.
Dry Offset Cylinders for Plastic Container Printing Equipment
We also manufacture cylinders to be used on plastic containers. Many OEMs utilize Magnetic print cylinders in their equipment to print cups, pails, buckets and caps.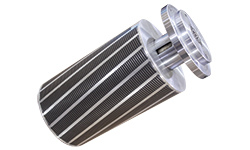 •   Eliminate time-consuming mechanical plate lock-ups so plate changes go quicker.
•   Bunting decorating cylinders are custom made to precisely replace OEM cylinders.
•   Tighter tolerances than any other magnetic cylinder results in better graphics quality.
•   Registration can be matched exactly to existing registration to eliminate the need to remake existing plate inventory.
Get a Custom Quote