Magnetic Liquid Traps
Magnetic Protection Against Tramp Iron Contamination
Magnetic Liquid Traps are designed to remove ferrous tramp from liquid processing and conveying lines. They provide dependable protection against tramp iron contamination and come equipped with powerful, high-energy and high-temperature Neodymium magnets to capture even magnetic debris like work-hardened 300 series stainless steel fragments.
Metal-Detectable Gaskets and Grommets are standard in housing of Magnetic Liquid Traps.
Cartridge-Style Liquid Traps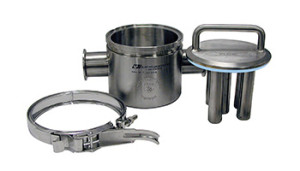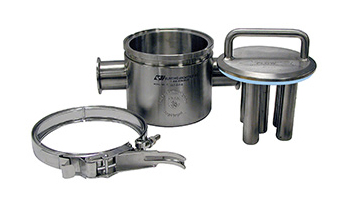 Trap design forces liquids through a tightly spaced grid of magnetic cartridges to ensure close contact between the product and the magnetic field. Cartridge-Style Liquid Traps are intended for use with non-fibrous fluids. Ferrous tramp is magnetically extracted from the liquid flow by powerful Rare Earth magnets and held on the cartridge surfaces. For cleaning, you simply remove the cartridge-lid assembly from the trap housing and wipe off the collected metal particles.
Features available include:
Easy spot check the magnetic cartridge for contamination with unique Clean In Place (CIP) design.
Standard 2", 3" & 4" Line Diameter, 1/2″ and other sizes available upon request.
2″ Diameter is available for immediate shipment
For the Food and Powder & Bulk Industries
Corrosive-Resistant Liquid Trap for Processing of Acidic Foods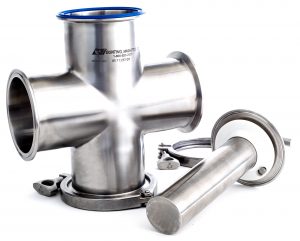 Manufactured of corrosive-resistant material that has a much higher resistance to chloride pitting, crevice and stress cracking corrosion. The 2″ diameter magnetic load is thicker than the normal 1″ diameter cartridge, making it last longer in the field. Self-cleaning is standard on this model. Click here to learn more about the Corrosive Resistant Magnetic Liquid Trap.
For the Food Industry
Plate Style Magnetic Liquid Traps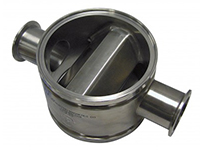 Single Plate Magnet and Dual Plate Magnet Liquid Traps effectively remove ferrous particles from viscous and fibrous liquids and liquids containing larger suspended solids. These traps are designed to direct contaminants against a magnetic plate and into a deep magnetic field where they are captured and protected from the wiping action of the liquid flow. A deflector creates gradual change in the direction of flow to agitate the product and expose contaminants that would otherwise be blocked by suspended solids.
400 Stainless steel tapered live step is standard. 316 Stainless steel is available.
Finishes available are: food, sanitary and 3-A.
Standard high temperature and high intensity rare earth magnets.
Standard 1″ – 4″ inlet with 1/2″ sizes available, and special sizes upon request.
All fittings available.
For the Food Industry
Magnetic Inline Liquid Traps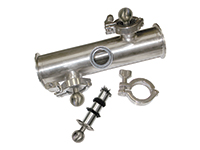 Our Magnetic Inline Liquid Traps use Powerful Rare Earth Magnets to remove even the smallest ferrous particles from liquids with a higher viscosity. The straight-through design allows liquids with a higher viscosity to travel easily through the trap.
High Temperature Rare Earth Magnets are standard for temperatures up to 300º F.
Easy to install where space is a problem
Available in 3" & 4" units in stock for immediate shipment
For the Powder & Bulk and Food Industries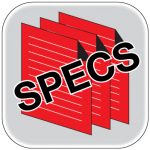 Magnet Liquid Trap – Technical Specifications