HF Drawer Magnets
Drawer Magnets for Gravity Flow Applications in All Industries
Bunting HF Series Drawer Magnets are equipped with powerful magnetic cartridges to handle a wide range of separation tasks in mechanical or gravity flow applications. They can be configured with two or more cartridge trays arranged so that the cartridges are staggered to increase contact with the product stream. Material moves in a zig-zag pattern from one cartridge tray to the next for exceptionally thorough cleaning. HF Drawer Magnets are available in utility, food, and sanitary construction grades with multiple cleaning options and stainless steel housings. We supply custom transitions to match your round, square, or rectangular spouting.
HF Drawer Magnets come standard with the NUHI™ Neo Ultra High Intensity Cartridge Magnet. Completely redesigned from the ground up to address the processing challenges manufacturers face, the NUHI™ cartridge is nearly 20% stronger and delivers 50% more reach out than our previous cartridge design. The result is more power, a purer product and better plant efficiency.
Request a Quote  
Click here to learn how the NUHI™ Cartridge Magnet can protect your customer, product and brand.
Metal-Detectable Gaskets and Grommets are standard on HF Series Drawer Magnets.
Learn More About Bunting® HF Series Drawer Magnets: 
Manual Standard HF Drawer Magnet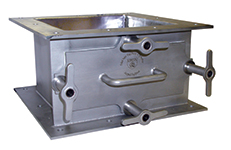 In the standard configuration, ferrous debris is removed from the cartridges by sliding the trays out of the housing and wiping them off by hand. Model shown is USDA accepted.
Manual Self-Cleaning HF Drawer Magnet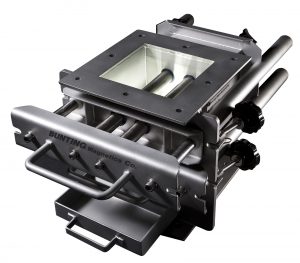 Self-Cleaning HF Drawer Magnets are designed to fully extend the magnetic cartridges outside the housing. As these tube assemblies travel outside the housing, grommets wipe the tubes clean all the way to their nonmagnetic tapered ends. This ensures that each cartridge is fully wiped and prevents captured tramp iron from reentering the housings.
Pneumatic Self-Cleaning HF Drawer Magnet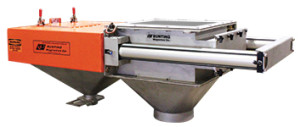 Pneumatically powered cleaning mechanism releases ferrous contaminants into the discharge area automatically. Pneumatic units can be installed in hard-to-reach locations because they operate at the touch of a remote switch or by a Bunting-engineered automated control package. With this model, product flow must be stopped to clean cartridges and prevent contaminated products from flowing into product stream.
Pneumatic Continuous Self-Cleaning HF Drawer Magnet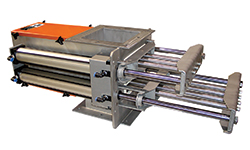 Because of the special drawer design, the product continues to flow while magnets are being cleaned. There is no need for a gate to stop product flow. Each row of magnets are cleaned in an alternating pattern allowing the product to remain in contact with a row of magnets at all times. This unit operates by remote switch or by a Bunting-engineered automated control package allowing it to be installed in hard-to-reach locations.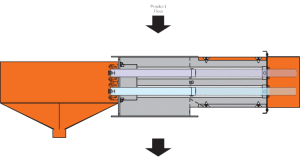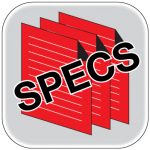 HF Drawer Magnet – Technical Specifications
Start a conversation with our experts at Bunting—Contact Us.