Disc Separator
Disc Separators
The Disc Separators are widely used to ensure an accurate separation of materials that have varied magnetic susceptabilities.
The Disc Separator has a very lengthy history, with its original designs dating back to the early 1900s. Although manufacturing techniques have significantly changed and more advanced machines have now been incorporated, the basic design still remains virtually the same.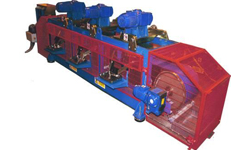 Feed material is discharged from a hopper to a vibratory feeder tray. A thin layer of material is continuously transported beneath the rotating discs where magnetic particles are attracted to the high gradient magnetic zones on the discs. The rotating discs then carry these captured particles to the discharge chutes where they are released. Scrapers mounted on chutes ensure the total discharge of magnetic particles. Non-magnetic material is then transported through a second magnetic separation zone where secondary separation occurs, and is finally discharged at the end of the machine as a clean non-magnetic product.