Products
Magnetic Equipment for Detection and Removal of Metal Contaminants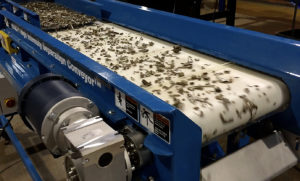 At Bunting-Newton, we manufacture Material Handling Conveyors, Magnetic Separation Equipment, Metal Detectors, and Printing Equipment. Since 1959, we have been serving our customers by providing products to help their plant run more productively and save costs. We offer an extensive line of products to move, detect and remove metal particulates in your product flow.

Buy Rare-Earth Permanent Magnets Online 
Through our Bunting-Elk Grove Village website BuyMagnets.com, we offer a large selection of permanent magnets and equipment for OEMs and end users. Receive products fast as most items are available for immediate shipment.
Our selection includes:
Custom Magnetic Assemblies for Your Application 
Bunting-DuBois (formerly Magnet Applications, Inc.) offers a variety of turnkey solutions for custom magnetic assemblies, which are designed and built around our core magnets. We offer custom applications for permanent magnet motors and magnetic sensors for a variety of industries. Our capabilities include design and engineering, manufacturing, distribution, rapid prototyping, and injection molded magnets.
Magnetic Equipment for Any Application
We manufacture products for various industries including Food, Grain & Milling, Powder & Bulk, Plastics, Recycling, Metal Stamping, Dry Offset Printing, and Web, Offset & Letterpress Cylinders.
Below you will see the product lines that we serve and the equipment we manufacture.
Get in Touch to Learn More About our Products 

Material Handling Equipment

Bunting® provides a large lineup of material handling equipment for the Recycling, Metal Stamping, Plastics and Food industries. Bunting combines our material handling conveyors with magnetic separation and metal detection equipment to separate and purify materials. We add magnetic rails to conveyors to stabilize, transport and hold ferrous parts through manufacturing operations.

Magnetic Separators

Bunting® magnetic separation includes units designed to remove metal contamination from dry particulates, liquids, and slurries in gravity, mechanical, or pneumatic conveying systems. Widely used in the food, dairy, grain, chemical, plastics, oil, textile, recycling, and other industries.

Metal Detection

Bunting® metal detection products are designed to monitor free-flowing gravity-fed products, pneumatically conveyed materials on conveyor belts as well as liquids, pastes, and slurries in pipes. For use in the Food, Grain & Milling, Powder & Bulk, Recycling and Plastics Industries.

Printing Products

Bunting® magnetic printing cylinders can be custom built for any type of printing press. This includes presses for flexographic, two-piece can, corrugated box or plastic up printing, drum-feed laser imagers or drum-feed plate developers and more.

Magnets

Bunting® Permanent Magnets and Holding Assemblies in hundreds of shapes and sizes are available for immediate shipment from our warehouse inventory in Elk Grove Village.

Spare Parts

There's no substitute for being prepared. Keep Bunting spare parts on-hand to prevent costly stoppages.