Magnetic Stacking, De-Stacking, and Timing Belt Transfer Conveyors
Heavy-Duty Conveyors with Precision End Weldments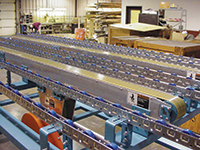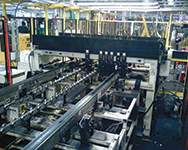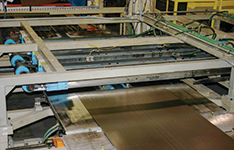 These conveyors are for accurate gang mounting installations, precision machined, knurled and crown pulleys and heavy-duty self-aligning drive bearings for extended life.
Magnetic Stacking and De-Stacking Conveyors
Bunting Stacking Modules can be configured to take sheets or blanks from your cut-to-length operation and then transfer, index, and stack them at pre-selected destination points. Stampings can be conveyed away from your press die area into a stack.
A magnetic sheet fanner unit can be installed to fan and separate stacked parts or blanks and feed them one at a time into production machinery. As the ferrous sheets or parts are acquired and magnetically fanned, they are separated and lifted one at a time by the suction cups to the overhead magnetic conveyor and transported to the next workstation.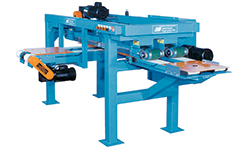 Available for either standard horizontal (sheet on top) or in the inverted position (sheet on bottom).
Available for gang mounting and driven to handle sheets up to 120″ wide and up to 180″ long.
Individually driven MDC Conveyors can be utilized for small sheets.
Optional proprietary permanent magnetic switches for accurate sheet stacking.
4″ wide belted conveyors ganged to handle wider sheets.
Belt speeds from 20′ to 300′ feet per minute.
Timing Belt Transfer Conveyors
Bunting Timing Belt Conveyors add the advantages of precise speed control to the productivity enhancing features of our Stacking/Destacking line. Objects stay in position for integration with production line operations and robotics. Timing Belt Conveyors let you process parts as they are being conveyed and allow on-conveyor indexing and multiple pick-up options. Precise conveyor belt timing maintains the spacing of sheets, blanks, and parts from initial placement on the conveyor until they are removed by robotic devices, transferred to another conveyor, or stacked.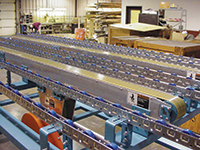 Typically used in the standard horizontal (sheet on top) position.
Designed to be gang driven together to provide precise transfer of sheets in precision automotive shear – welding – dimping lines.
Usually provided with a floor support table which has linear bearing to move and adjust the conveyors laterally as required or fixed in place.
Heavy duty urethane timing belts makes sheet position and orientation accurately maintained.
Each belt in the system can index the sheet exactly the same speed and distance which maintains the precision orientation and can be used to run sheets into locating pins.
Made from either aluminum or stainless steel side frames, precision heavy-duty self-aligning bearings and precision timing belt drives.
Typically gang mounted and driven to handle sheets up to 120″ wide and up to 120″ long.
Utilizes proprietary permanent magnetic switches for accurate sheet release.
The remainder of the conveyor has permanent magnetic rails for firmly holding the sheets to the timing belts.
Designed in two styles: nose-over end drive for conveyors under 100″ long and center bottom drives for longer conveyors.
Mounting table with side skate support side rails.
Magnetic Stacking, De-Stacking, and Timing Belt Transfer Conveyors – Technical Specifications