Pharmaceutical Metal Detector
High Precision Metal Separator in Pharmaceutical Applications
Detects all types of metals including ferrous, stainless steel, aluminum, copper and brass through examination of pills and capsules. Reliable detection of free or encapsulated contaminants in product flow.
Pharmatron Metal Detectors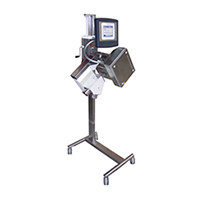 •     Ultra-fast processing of pills and capsules
•     Fast cleaning and sanitizing
•     Works with all tablet presses
Pharmatron has digital 2 channel signal processing and a 1 MHz operating frequency for speed and accuracy. Unit detects metal debris as small as 0.2 mm in diameter, which can include die particles or screen fragments.
Contaminants are detected and automatically rejected from the product stream without process interruption. Minimal loss of good material due to a fast reacting, powerful magnetic for the eject gate.
Equipped with the quick-disconnect option. Pharmatron can be thoroughly cleaned without dismantling or using tools. Reject system can be disassembled in seconds.
Adjustable working height and angle allow use with all tablet presses and de-busting machines.
How a Pharmaceutical Metal Detector works:
The Pharmatron automatically removes metal contaminants without production interruption (1) from a stream of tablets or capsules. Clean product passes without delay through the metal separator. A metallic contaminant in the product changes the high frequency magnetic field (2) within the detector coil. The electronic evaluation system generates a switching impulse which activates an eject gate (3) by means of an electrically rotating solenoid. The Metal contaminant is reliably rejected with very little loss of material due to the extremely fast and short deviation of the product stream reject time (dwell time of the eject gate) is adjustable. The dwell time is cumulatively increased in case of several contamination's during the set dwell time. The eject gate returns automatically to its rest position, after successfully removing the metal contaminants.