Magnetic Separators
Safeguard Your Product Quality and Protect Your Equipment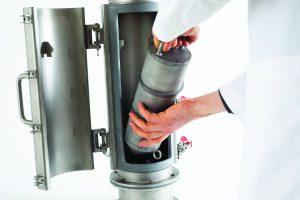 Bunting® Magnetic Separators are used in the food, dairy, grain & milling, chemical, plastics, oil, textile, recycling, and other industries for applications and products similar to yours. With our products, you have a single source of supply for everything you need for efficient separation. You can rely on our magnetic separation equipment to eliminate product contamination and damage to machinery from tramp metal in an economical and cost-effective way. Magnetic separators can be ordered to meet specific construction standards and customized to satisfy your special requirements.
Bunting's Sanitary-Grade Metal Separation Equipment

Our sanitary-grade metal separators are the first separators to earn USDA, AMS-Acceptance. Our engineers refined existing designs to help processors meet increased marketplace demands and governmental requirements for safer and purer foodstuffs, meats, pharmaceuticals, and chemicals.
All of these approved models have met or exceeded the USDA, AMS criteria as published in the NSF/ANSI/3-A 14159-1 2002 specifications
All machinery has passed inspection and earned the right to bear the USDA, AMS Meat and Poultry Accepted Equipment logo.
Trap, Drawer, In-line, Hump and Wedge Magnets built for food-grade applications.
Metal-Detectable Gaskets and Grommets add another layer of safety in our food-grade (or higher) Magnetic Separation equipment including HF Drawer Filters, Magnetic Liquid Traps, In-Line Magnets, Hump Magnets. Your increased demands for product safety are met even more with this industry-leading feature. With Metal-Detectable Gaskets and Grommets, if a piece chips off or the gasket breaks, it is immediately caught by the equipment's magnetic cartridge or plate. The broken piece can also be seen in any metal detection or x-ray system.
Request a Quote to Upgrade your Metal Separation Processes

Corrosive Resistant Magnetic Liquid Trap

The CR-MLT offers high separation capabilities combined with exceptional resistance to corrosion, providing a solution for customers in a wide range of industries who are handling corrosive and acidic materials.

FF Series Drawer Magnets

FF Series Drawer Magnets are built with strong Rare Earth magnets for strong holding force in gravity flow applications. They are temperature compensated with stainless steel construction and designed for the Plastics Industry.

Drum Magnet

Drum Magnet Separators come in 3 grades of Rare Earth Magnets and are self-cleaning. They provide continuous removal of ferrous contaminants from product flow.

HF Drawer Magnets

HF Drawer Magnets are for gravity flow applications. They house two or more magnetic cartridges for efficient product separation. For all industries - Food, Grain and Milling, Powder and Bulk, Recycling, and Plastics.

Magnetic Liquid Traps

Magnetic Liquid Traps remove ferrous tramp including 400 series stainless steel and work-hardened stainless steel from liquid processing and conveying lines. Comes in several styles of traps with High-energy, temperature compensated Neodymium Magnets. Metal Detectable gaskets are standard. For the Food Industries.

In-Line Magnets

In-Line Magnets are for Gravity or Pneumatic flow applications. Enclosed pipe systems for unobstructed product flow. Rare Earth Magnets are standard. For all industries.

Cleaning Systems

Cleaning systems use magnetic and electronic separators to remove both ferrous and nonferrous contaminants efficiently from free-flowing virgin resins, regrind, and recycled plastics.

Air-Cooled ElectroMax Suspension Magnet

Bunting's Air-Cooled ElectroMax Suspension Magnet removes ferrous material in burden depth up to 25", depending on material.

Electro Drum Magnets

These heavy-duty magnetic separators are designed to separate and recover large pieces of ferrous tramp metal out of the product stream.

Permanent Drum Magnets

Permanent drum magnets are versatile, robust magnetic separators that are well suited to a wide range of applications, including those in the food, plastics, powder and bulk, grain and milling, and metal recycling industries.

Plate Magnets

Plate Magnets capture fine metal particles from chutes, suspended in powdery, moist, clumpy, abrasive or bulk materials. Various models available. For all industries including, Food, Powder & Bulk, Grain & Milling, Recycling and Plastics.

Magnetic Cartridges & Grate Magnets

Grate Magnets and Magnetic Cartridges are engineered to achieve balance between reach-out and holding force. Can be used in all industries.

Hump Magnets

Hump Magnets are for high-volume product flow. Offset design breaks up clumps and directs material into magnetic field. Self-cleaning model available. For all industries.

Torpedo Magnets

Torpedo Magnets are used in "Just-in-Time" hopper loaders. They protect plastic molding machines by capturing tramp metal before entering machine. For the Plastics Industry.

Magnetic Pull Test Kits

These test kits has been developed for the purpose of field inspection, measurement and performance analysis of permanent magnetic separation equipment to guard against a lapse in magnetic protection.

TurboGrate™ Magnetic Separator

TurboGrate™ Magnetic Separator features a powerful motorized rotating grate magnet to remove ferrous metals from powder and granular materials. For the Food and Powder & Bulk Industries.

Gaylord Cleaning Station

The Gaylord Cleaning Station combines a Bunting drawer magnet with an electronic metal detector to remove ferrous and nonferrous contaminants.

Tube-Style Magnets for Non-Wovens

Magnetic Cartridges are engineered to achieve balance between reach-out and holding force. Can be used in all industries.

Wedge Magnets

Wedge Magnets are designed for narrow chutes and protect against tramp metal damage for pellet mills. Shape diverts product flow across collection surfaces. For all industries.