Printing, Decorating & Converting
Magnetic Cylinders for the Printing Industry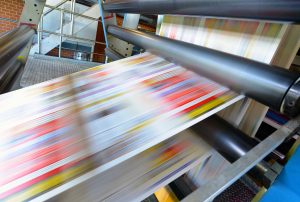 Bunting® manufactures various types of magnetic printing cylinders and bases. Some of them include Letterpress Cylinders, Hot Stamping Cylinders, Magnetic Corrugated Cylinders, Stamping Bases, Magnetic Die-Cutting Cylinders and Accessories.
Request a Quote for Your Printing Facility

Increase Pressroom Productivity
Precision-built Bunting Magnetic Cylinders and Flat Bases can make your existing press a better, more productive press that can turn out superior product in less time with reduced labor. Innovative engineering, precision manufacturing, and the labor-saving power of permanent magnets make our cylinders and bases a profitable addition to any printing operation.
We have been making top-quality magnetic cylinders and bases since 1974. We work closely with major press manufacturers to ensure that Bunting Cylinders and Bases conform to OEM specifications. Each Bunting Cylinder and Base is custom built for the application in which it will be used and guaranteed to fit the press for which it was ordered. Each is ruggedly constructed and guaranteed to maintain its magnetic strength.
Turn Out Superior Work Faster
The powerful Ceramic or Rare Earth permanent magnets embedded in Bunting Cerface™ Cylinders and Flat Bases grip flexible steel-backed plates and dies and hold them securely in place – without the need for conventional mounting materials. To assist with registration, we offer pin, scribe-line, or butt-bar options.
All Bunting Magnetic Cylinders are designed with our trademarked Cerface™ magnet design featuring powerful surface-mounted Ceramic magnets that create a super-hard, abrasion-resistant surface over a strong, solid-metal core that virtually eliminates deflection. Our Cerface™ Ceramic magnets resist wear and gouging and can be cleaned with common pressroom solvents. All Bunting Cylinders and Flat Bases are precision ground to create a uniform printing surface that contributes to outstanding image quality.
ANC Rexam Megyesi Cylinder and Shaft

After Rexam purchased ANC at the beginning of the new millennium, some of the 22 US-based and 13 Europe-based plants continued using the ANC/Rexam tapered shaft and cylinder design.

Cone Cylinder and Shaft Assembly

Starting in 2023, a new Bunting facility known as the "Manufacturing Center for Magnetic Decorator Cylinders" will be equipped to produce CONE-style tapered shafts and tapered bore cylinders.

Plastic Container

We also manufacture cylinders to be used on plastic containers. Many OEMs utilize Magnetic print cylinders in their equipment to print cups, pails, buckets and caps.

PlateMaster™ Printing Cylinder Assembly

Perfect for today's high definition print jobs and 2-piece can decorating. The patented PlateMaster™ offers a combined shaft and cylinder runout of less than 7/10,000th of an inch.

2-Piece Can Decorators

Dry Offset Cylinders offer fixed or patented adjustable pin options to reduce costs. Features include light weight, sleeved, multiple registration, and application specific designs to ensure quick plate changeovers.

Folding Carton

Two Bunting® Magnetic Die-Cutting Cylinders can convert your narrow web press for folding carton and other die-cut production. These cylinders give you quick changeovers and guaranteed fit.

Label & Narrow Web

Magnetic Die-Cutting Cylinders use magnets to hold flexible dies in place. Variations include standard tolerance, x-treme precision tolerance and folding carton.

Corrugated Board

The Magnetic Corrugated Cylinder allows you to finish more jobs per day using metal-backed plates on your flexo-folder gluer or flexo-printer die cutter. Optional Matthews Fast Lock available.

Special Order Cylinders

Depending on your application needs, Special Order Cylinders can be customized for non-standard dimensions, outfitted with special bearers, or equipped with high-energy Neodymium magnets.

Flat Bases for Stamping

Magnetic Stamping with flat bases are for Platen and Flatbed Printing and Die Cutting. Magnetic Hot Stamping Bases are for foil stamping. They can be used for automatic and semi-automatic processes.

Cylinder Accessories

Accessories for Cylinders include Plate Formers, Web Protection Magnets, and Corner Rounders. Used to protect cylinders, enhance plate performance, and make operations safer.