Flat Bases for Stamping
For Printing, Hot Stamping and Die Cutting

Our magnetic bases can be used on Heidelberg windmills, Brandtjen and Kluge clamshells, New Era platen presses, Miehle verticle presses, and Chandler & Price Pilot presses.
Cerface™ Flat Bases
For Platen and Flatbed Printing and Die Cutting, one or more Bunting® Magnetic Cerface™ Flat Bases can be locked into an existing letterpress chase and quickly prepped. Powerful surface-mounted Cerface permanent magnets hold steel-backed photopolymer plates or steel dies securely in register throughout your run.
Benefits include:
•   Upgrade your Heidelberg, Kluge, New Era, C&P, Miehle or other letterpress to make mounting and registration fast and positive.
•   Save time and labor from setups to changeovers, using a minimum of conventional quoins and furniture.
•   Keep chases permanently locked up, ready for immediate use.
•   Maintain accurate height and superior output thanks to precision construction and finishing.
•   Reduce wear and tear on plates, dies, and mounting materials.
•   Set up for die cutting and embossing with the optional stainless steel housing.
•   Get economical bases designed specifically for pad printing.
Magnetic Hot Stamping Bases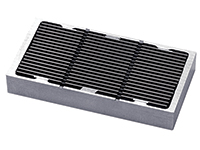 Bunting® Magnetic Hot Stamping Bases are press-proven for foil stamping on virtually all types of decorated paper and plastic products. They are used for Automatic and Semi-Automatic Presses. Dies snap into place, reposition easily, and change out fast for the next job.
Benefits include:
•   Increase productivity while you save time, labor, and material costs.
•   Make die changes fast, clean, and easy.
•   Get even heat transfer for consistently superior results with flush finishes, embossing, and debossing.
•   Get bases individually precision ground to the height you specify.
•   Eliminate mechanical lockups that limit die size and adjustments.
•   Eliminate tape, messy cleanups, and the risk of damaging dies.
•   Hot stamp booklets, wrappers, packaging, appliance parts, automotive trim, and other large and small products.