Hump Magnets
Hump Magnet Separators for High-Volume Product Flow
Bunting Hump Magnet Separators come in Hump and Half-Hump housings designed for installation in enclosed flow lines or on processing equipment. We can supply adapters made to your specifications. Hump Magnets are made for gravity free-fall applications in magnetic separation.
Metal-Detectable Gaskets and Grommets are standard in housing of Hump Magnets.
Hump Magnets
Housings handle gravity, moderate positive and negative pressures. The angled shape directs the product flow into the magnetic field, helps prevent build-up and bridging, and also breaks up clumps of product for increased protection against entrapped ferrous debris.
•     Offset design breaks up clumps and directs material into magnetic field.
•     Select double or single hump housings sized and outfitted to your specs.
•     Mild steel or stainless steel construction.
•     Transitions for round, square, or rectangular spouting.
•     Hinged plate magnets swing open for quick manual cleaning.
•     Self-cleaning models reduce cleaning time and labor.
Half-Hump Magnets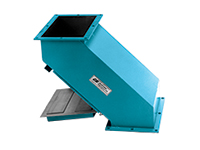 Our Half-Hump Magnets are used where Hump Magnets will not fit because of height restrictions. Like its larger version, the Half-Hump housing directs the material flow over the single high-strength permanent magnet and breaks up aggregated material to dislodge and capture embedded metal contaminants.
Self-Cleaning Efficiency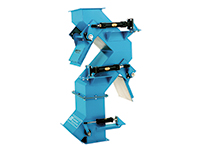 Pneumatically controlled self-cleaning models reduce downtime and permit remote or automated operation. We offer a pre-engineered control package for optimum sequencing of the cleaning cycle.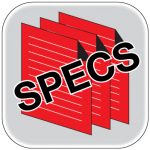 Hump Magnet – Technical Specifications