Magnetic Sheet Fanners
Pry Apart Oily, Sticky, Polished or Pre-Finished Ferrous Sheets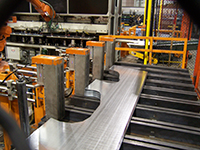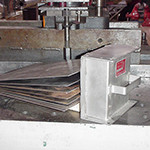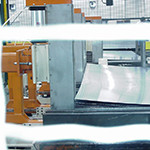 We can manufacture custom magnetic sheet fanners engineered specifically for your production facility. 

Magnetic sheet fanners are customizable for you and provide a faster and safer alternative to separate ferrous sheets. The magnetic field is transferred to the steel blanks which take on the magnetic pole to repel from each other.
---
For

Same-Day Shipping

Buy Here

 

Generation I Switchable Patented Neo Magnetic Fanners

Designed for automation lines for fanning sheets on robotic lines.
Fanners are switchable and can be turned on or off to place a new stack of sheets in position or to remove a stack of sheets.
Turned off fanners are completely non-magnetic for safe sheet movement.

Machine Mount Permanent Magnetic Sheet Fanners

•     Tapped mounting holes allows for mounting directly to framework or on retractable arm.
•     Available in either permanent magnetic ceramic or Neo Rare Earth.
•     Tapered fronts for smooth sheet movement.

Pivoting Permanent Magnetic Sheet Fanners

Complete with a back support bearing frame which can be mounted to your framework.
Ideal for fanning irregular shaped parts. They pivot on the bearings around the blank stack to contact with the irregular sheets.
Available in either permanent magnetic ceramic or Neo Rare Earth.

Retractable Pin Sheet Fanners

Pins at bottom of fanner extend to support the last couple of blanks as a new stack of blanks is feed up from the bottom into position.
Pneumatic pins retract so that the stack can then be raised up into the fanning position, allowing for continuous press operation.

Magnetic Sheet Fanner – Technical Specifications

---

Request a quote for magnetic sheet fanners — contact us or call (800) 835-2526.