WHIM Magnetic Separator
WHIM Magnetic Separators
The WHIM (wet high intensity magnetic) separator is used to continuously extract fine magnetic and paramagnetic contamination from material presented in a wet state. These separators are ideal when handling material that cannot be separated in a dry state, and units are available in single, double, 4-station, or 8-station units.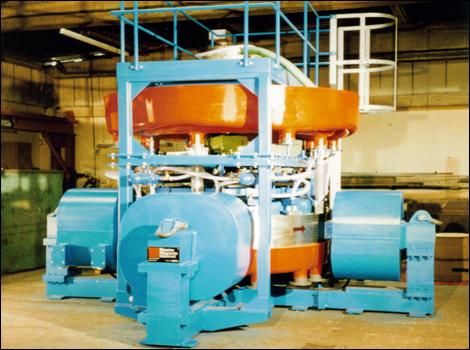 Superior Separation of Paramagnetic Contamination
The construction of the WHIM magnetic separator involves two rings that carry a carefully arranged matrix system composed of triangular section magnetic stainless steel bars, with each rotating between a powerful electro field magnet. The unique matrix construction allows the sections to generate exceptionally high magnetic fields due to their close proximity to one another. This results in the powerful magnetic force necessary to pick up paramagnetic contamination.
Click to Request a Quote

Comprehensive Removal of Ferrous Contamination in Wet Material
To ensure no contamination remains within the material being fed through the WHIM magnetic separator, the matrix is arranged so that material passes through multiple powerful magnet zones. Material is first discharged from a hopper, and then fed into the WHIM magnetic separator from a vibratory feeder tray. A thin layer of material is continuously transported to flow beneath rotating discs containing high gradient magnetic zones, attracting and trapping magnetic particles. Contaminant particles are attracted to these rotating discs while non-magnetic material continues to flow freely. The trapped contaminant particles are given a light jet wash while they are still in the separation zone, removing any trapped non-magnetic material and reducing loss of product. After this jet wash, the magnetic material is carried by the matrix to a drop off point, using scrapers mounted on chutes to ensure the total discharge of magnetic particles. Non-magnetic material continues to flow through the production line, moving through a second magnetic separation zone to ensure all particles are efficiently removed, then discharged at the exit of the machine as a completely clean product, free of any ferrous contamination.
WHIM Magnetic Separator Features:
• Wet high intensity, high gradient WHIM separators are used for the continuous extraction and concentration of fine paramagnetic materials being presented in a wet state. This separator is used when a material cannot be separated in a dry state.
• Designed so that feed material has to pass through a multitude of powerful magnets, ensuring that no contamination will be missed during the separation process.
• WHIM units can be designed as single, double, 4-station or 8-station units. The 8-station separator has a capacity of up to 160 tons per hour. It is able to separate material from approximately 0.11 down to 0.0001 inches.