Tunnel Style Metal Detectors with Conveyors – Food, Grain and Milling, Powder and Bulk
Tunnel Style Metal Detectors are Essential for Product Purity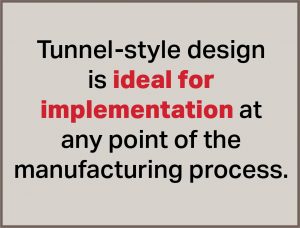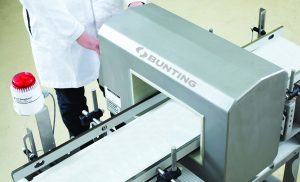 Bunting's tunnel style metal detectors are suitable for customers in the food, grain/milling, and powder/bulk industries. Our tunnel style metal detectors are fully customizable depending on your application needs, and easily integrate with the existing equipment in your facility. These metal detectors are capable of detecting ferrous, non-ferrous, and stainless steel metal contamination from raw material as well as packaged products.
All of our tunnel style metal detectors feature user-friendly control panels, advanced metal detection capabilities, and epoxy-filled search heads that are waterproof and isolate sensitive internal components from outside damage or interference.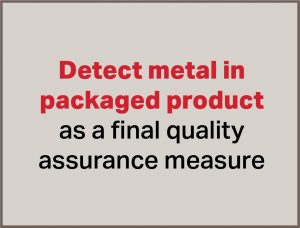 By implementing Bunting's tunnel-style metal detectors into your facility, you are able to protect your product from the impurities that metal contamination can cause, and in turn protect your customers as well as your brand reputation. Additionally, Bunting's metal detection equipment protects the other equipment in your facility by swiftly detecting and rejecting metal contamination that can result in costly repairs and downtime. All of our metal detection equipment is designed to minimize loss of good product while delivering superior metal detection performance.
Get a Custom Quote

meTRON™ 05 & 07 CI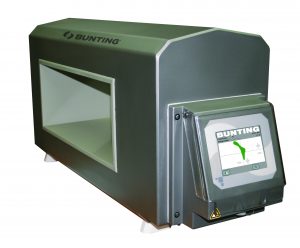 The meTRON™ features a tunnel style feedthrough system, closed loop, and integrated controls (CI) for use in conveyors, chutes, and troughs.
• Operates perfectly in wet spaces. Persistent assault from high-pressure cleaning and aggressive cleansing agents will not damage the durable stainless steel search heads.
• Epoxy filled search head is waterproof and isolates the coils from vibration.
• Proprietary Bunting construction design creates the smallest metal-free zone possible and shields the search head from outside interference.
• Constructed in Epoxy Painted IP54 (05 Controls) or Stainless Steel IP66 or IP69K (05 or 07 Controls).
• Custom aperture sizes are available to ensure the perfect fit in your application.
• Available with remote mounted controls.
• ATEX explosion proof rating available.
• Special construction allows it to excel at handling large bags of dry bulk products, such as flour, sugar, and rice.
• Bulk Sense Kit can detect 316 stainless steel as small as 2.0mm and ferrous/non-ferrous metal particles as small as 1.5mm when inspecting bags of dry product between 50-100lbs. This high level of sensitivity allows the meTRON™ 07 to sense and reject even the smallest metal contaminant particles.
Get a Quote

meTRON™ 07 CI with Conveyor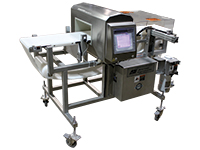 Bunting has developed the meTRON™ 07 CI to incorporate a custom-designed conveyor belt system to allow accurate metal detection while maintaining quick, efficient product flow. All units are custom-built to exact specifications and arrive ready for installation.
The following items for this metal detection conveyor can be customized:
• Available in stainless steel for washdown environments or painted steel for non-washdown environments.
• Available in detector conveyor belt (DCB) or detector conveyor modular belt (DCM) with modular or fabric belting options.
• Direct drive reducers and motors.
• Controls with start/stop buttons or variable speed with encoder.
• Adjustable height leveling pads or casters.
• Variety of reject options, including belt stop, belt stop and reverse, air blast, 90° pneumatic pusher, 45° sweeper arm, retracting nose pulley, decline nose pulley, or flap gate on end of conveyor.
• Designed to match your production speed with fixed or variable speed drives. From .72 to 100 feet per second.
• NEMA 4X rating available for wash-down environments.
Get a Quote

Now Available with Optional Triple Frequency Controls
New integrated controls enhance the company's innovative imagePHASE platform by allowing the processor to learn a packaged food product in three different conditions, and select the one with that yields the greatest sensitivity. With the upgrade to these controls, the detector also displays the expected sensitivities to the operator with all three metal types – ferrous, non-ferrous and stainless steel.