Tunnel Style Metal Detectors with Conveyors – Food, Grain and Milling, Powder and Bulk
Tunnel Style Metal Detectors are Essential for Product Purity
Customizable depending on your application needs, for use in the food, grain and milling, and powder & bulk industries. Tunnel style metal detectors can be used to inspect raw foods or for final inspection in a packaging line, to ensure there is no metal in the product before shipping to the customer.
Request a Quote for Tunnel Style Metal Detectors 
meTRON™ 05 & 07 CI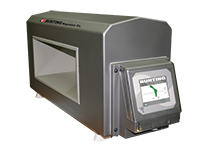 Tunnel style, closed loop, integrated controls (CI) metal detector for use in conveyors, chutes and troughs.
•     Stainless steel search heads can resist high pressure cleaning and the use of aggressive cleansing agents.
•     Epoxy filled search head is water proof and isolates the coils from vibration.
•     Exclusive construction delivers the smallest metal free zone possible, while shielding the search head from outside interference.
•     Constructed in Epoxy Painted IP54 (05 Controls) or Stainless Steel IP66 or IP69K (05 or 07 Controls).
•     Custom aperture sizes available, ensuring the perfect fit in your application.
•     Available with remote mounted controls.
•     ATEX Explosion Proof Rating Available.
Get a Quote
meTRON™ 07 CI with Conveyor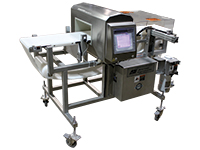 The combination of our Metal Detector Conveyor and MeTron™ C Metal Detection provides our customer peace of mind with superior metal detection within your manufacturing process. These units can be custom built to exact specifications and are ready for installation.
The following items for the Metal Detection Conveyor can be customized:
•     Stainless steel for washdown environments, or painted steel for non-washdown environments
•     Direct drive reducers and motors
•     Controls with start/stop buttons or variable speed with encoder
•     Adjustable height leveling pads or castors
•     Modular belting or Fabric belting
•     Reject options include Belt Stop, Belt Stop and Reverse, Air Blast, 90° Pneumatic Pusher, 45° Sweeper Arm, Retracting Nose Pulley, Decline Nose Pulley, or Flap Gate on End of Conveyor.
•     ATEX Explosion Proof Rating available.
Get a Quote
Now Available with Optional Triple Frequency Controls
New integrated controls enhance the company's innovative imagePHASE platform by allowing the processor to learn a packaged food product in three different conditions, and select the one with that yields the greatest sensitivity. With the upgrade to these controls, the detector also displays the expected sensitivities to the operator with all three metal types – ferrous, non-ferrous and stainless steel.