Cone Cylinder and Shaft Assembly
Introducing the NEW "Cone" Cylinder and Shaft Assembly from Bunting!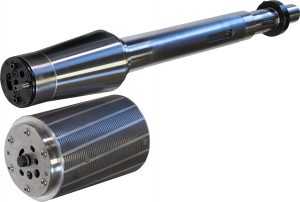 With the continued growth of the beverage can industry, Bunting has expanded our offering of decorator cylinders and shafts. Starting in 2023, a new Bunting facility known as the "Manufacturing Center for Magnetic Decorator Cylinders" will be equipped to produce CONE-style tapered shafts and tapered bore cylinders. The new manufacturing center will be partially automated to provide a stable source of supply for decorator cylinders regardless of how high the market requirements are. Automated feeding of key machine centers will allow for time intensive operations to be carried out in a "lights out" environment. Reduced labor requirements will circumvent the labor shortage situation faced by most manufacturers today.


The "CONE" Shaft Features:

• Eccentric adjustment that allows circumferential plate adjustment on the decorator.
• Push/Pull screw set allows for lateral plate adjustment that doubles as a position locking mechanism.
• Chromed bearing surfaces for longer print shaft life with less maintenance.
• Ceramic coated print shaft under the tapered sleeve, reduces wear, friction, and heat transfer.
• Chrome coated tapered sleeve precision mounts to ceramic coated shaft end with no binding.
• Taper design matches industry standard for brand interchangeability.
• Available in solid, water cooled, and internal lube designs.
The "CONE" Cylinder Features: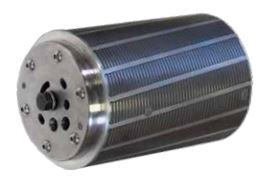 • Aluminum outer shell with Bunting's unique spiral magnet design for maximum hold on plate ends.
• Hardened steel insert with tapered inner bore is fully interchangeable with other cylinder brands.
• Ceramic magnets with stainless steel pole pieces in a Bunting exclusive Cerface™ setting for longer life.
• Registration Pins are located per your unique specifications.
• Laser Etched Scribe line and Serial Number.
• 100% CMM inspection for maximum accuracy.
• Automated manufacturing for faster turnaround time.