Plate Magnets
Bunting Plate Magnets for Magnetic Separation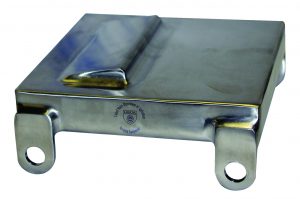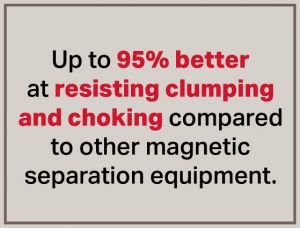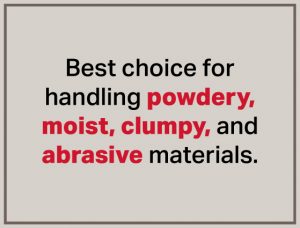 Bunting supplies various types of plate-based magnetic separators that can be implemented into a broad range of applications and can be used with an equally wide range of materials. All plate magnets are designed for the capture of tramp metal in gravity free-fall applications. Metal-detectable gaskets and grommets are standard features in housing of plate magnets.
Request a Free Quote for
Customized Units

                                                                       
For

Same-Day Shipping

Buy Here

Standard Plate Magnets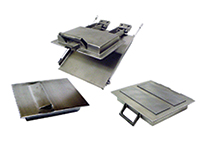 Standard Plate Magnets are available with permanent ceramic magnets or with high-intensity permanent rare earth magnets. Both types of magnets work efficiently to capture fine metal particles and slightly magnetic debris from powdery, moist, clumpy, or abrasive materials that might choke or wear cartridge-based separators. Plate magnets install easily in chutes to remove ferrous fine particles and larger pieces of tramp iron from many types of free-flowing and pneumatically conveyed material. They can also be installed above conveyors or below conveyor drive pulleys to capture contaminants as material drops from open belts. Standard installation kits include a pre-drilled hinge, latch, and other hardware to ensure easy mounting. The tapered magnetic face is designed to prevent contaminant wipe-off in rapid product flow. Standard plate magnets are available in widths from 4″ to 60″.
Features Include:
• Ideal for 30° to 60° inclines, allowing contaminants to be trapped as material flows over the plate magnets.
• Food, sanitary, and USDA finishes available to fit your production safety regulations.
• Hinged plates swing out for easy cleaning.
• 300 series SS construction. 316 stainless steel available when required. Tapered step face to prevent product wipe off in rapid product flow is standard with 400 stainless steel.
• Rare earth magnets are available to provide maximum strength and reach out.
• Optional replaceable wear face available for dealing with abrasive materials.
• 10,000 gauss available for food standards.
Get a Custom Quote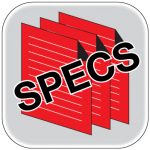 Plate Magnet – Technical Specifications
Plate Housing Magnets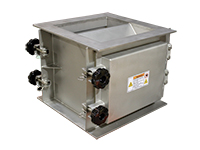 Bunting Plate Housing Magnets resist bridging and choking to remove tramp iron and ferrous fine particles from flow-resistant bulk materials. The stainless steel housings mount easily to enclosed spouting or directly on processing equipment. Optional square, rectangular, and round adapters can be supplied or designed to your specifications for ease of installation. A baffle at the top of the housing helps break up clumps and directs product flow over the unit's two powerful plate magnets.
Features Include:
• Excellent for separation of coarse, fluffy, and other flow resistant materials that bridge in grates and drawer magnets.
• A diverter at the top of the housing helps break up clumps and directs product flow over the unit's two powerful plate magnets. Additional removable/replaceable diverters are available.
• Custom transitions for round, square, or rectangular spouting are available to fit any application.
• Economical ceramic and powerful rare earth magnets are both available based on your production needs.
• A self-cleaning option is available for increased efficiency.
• Compact design fits easily into limited spaces, which allows for mounting on processing equipment or on spouting.
• Rugged stainless steel construction resists wear and extends life of equipment.
• 10,000 gauss available for food standards.
Get a Custom Quote 

Suspended Plate Magnets
Air-Cooled ElectroMax Suspension Magnets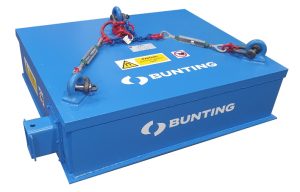 • Lighter than oil-cooled electro suspension magnet design.
• Less maintenance than oil-cooled electro magnets.
• Durable construction ensures longevity of equipment.
• Ferrous material is extracted and held in place until power is turned off.
• On/Off switching simplifies removal of collected ferrous.
• Comes standard with suspension chains and hardware.
• Works on burden depths up to 25" depending on material being separated.
Used for the Aggregate, Mining & Minerals Industry
Get a Custom Quote 

Permanent Suspended Plate Magnets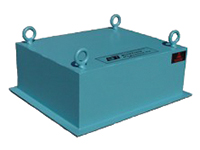 Bunting suspended plate magnets are designed to be suspended above open conveyors to remove ferrous objects and fines found in grains, feedstuffs, raw and processed food products, dry powders, and other particulates.
Features Include:
• Stainless steel design complies with food and sanitary grade requirements.
• Suspends over conveyor belt or drop off point to remove contaminants from dry powders, grains, and particulates without interrupting product flow.
• Powerful ceramic magnet field reaches deep into conveyed material to pull ferrous tramp from flat-belt and trough style conveyers. Rare earth magnet models are available for applications that require greater magnetic power.
• Sturdy, free-standing, bolt-together support frames enable convenient mounting.
• Optional stripper plate slides out for fast, easy, out-of-the-way cleaning.
• 10,000 gauss available for food standards.
Our Suspended Plates come in sizes matched to common belt widths and are outfitted with eye-bolts to aid in handling and overhead suspension.
• 950 Suspended Plates are designed for deep 10″ reachout troughing applications and for high conveyor speeds of 100 to 300 fpm.
• 650 Suspended Plates are designed for medium-duty and lighter burden depth where 6 1/2″ reachout is adequate. The 650 Series is a cost-effective choice when dealing with lighter product density, lower conveyor speeds, or thinner burden depths.
• 450 Suspended Plates are designed for light-duty, flat-belt applications. They can be upgraded from ceramic to rare earth magnets, resulting in higher intensity magnetic fields to separate metal fines from thin, light layers of product conveyed at speeds under 100 fpm on flat belts.
Get a Custom Quote