Powder & Bulk Solids
Bunting for the Powder and Bulk Solids Industry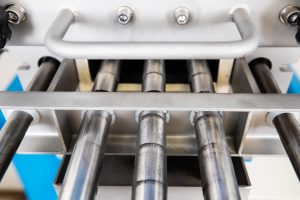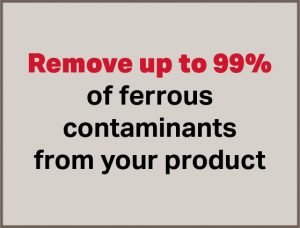 There are a wide variety of industries that handle products categorized under the powder and bulk solids label. Such industries include pharmaceutical suppliers, the mining industry, food processing plants, chemical manufacturing facilities, oil and gas companies, plastics and rubber manufacturers, pulp and paper manufacturers, and more. While it may seem as though pet food, cement, hemp, chocolate, cosmetics, and industrial chemicals have very little in common with each other, all of these products and industries depend on magnetic separation and metal detection equipment to ensure that they are producing high-quality products that are free of metal contamination.
Request a Quote for Your Powder & Bulk Solids Applications

Bunting serves a global market, providing customers handling any kind of powder or bulk solids material with a wide range of magnetic separation and metal detection equipment to choose from. By installing magnetic separation and metal detection equipment, customers protect their product from harmful metal contamination that compromises the product quality and purity, as well as their brand's integrity and reputation. Metal contamination can also have devastating consequences for the other equipment in the facility. The train of damage that even a small amount of initial metal contamination can trigger can lead to devastating financial consequences as equipment is damaged, operations are halted, and downtime accumulates.
Magnetic separation equipment from Bunting is designed to remove ferrous metal contamination from any kind of gravity, mechanical, or pneumatic conveying system. We offer extensive customization options and our engineers will work with you to provide a custom solution that fits perfectly within your existing facility. Our wide range of models can handle nearly any application, and provide thorough removal of ferrous metal tramp.
Bunting's line of metal detection equipment allows you to quickly and efficiently detect and remove ferrous metals, non-ferrous metals, and stainless steel from your product flow. All of our metal detectors are designed to be user friendly and facilitate ease of operation while providing the highest standard of metal detection.
The powder and bulk solids industry covers a broad range of industries, but at Bunting, we have the experience necessary to take on any challenge. With over 60 years of experience serving many customers working in powder and bulk industries, we are prepared to take on your unique challenges and provide you with an optimal solution.
Click here to view our Catalog. 
meTRON™ 07 CI Metal Detector with Bulk Sense Kit

Accurately detects metal in 50lb-100lb bags of dry product such as large bags of flour, powder, and other dry bulk products.

Drum Magnet

Drum Magnet Separators come in 3 grades of Rare Earth Magnets and are self-cleaning. They provide continuous removal of ferrous contaminants from product flow.

HF Drawer Magnets

HF Drawer Magnets are for gravity flow applications. They house two or more magnetic cartridges for efficient product separation. For all industries – Food, Grain and Milling, Powder and Bulk, Recycling, and Plastics.

In-Line Magnets

In-Line Magnets are for Gravity or Pneumatic flow applications. Enclosed pipe systems for unobstructed product flow. Rare Earth Magnets are standard. For all industries.

Pneumatic Style Metal Separators

These metal separators detect and reject all metal types in enclosed pipe systems. Easy operation, fast-acting reject flap, and maintenance-free.

Permanent Drum Magnets

Permanent drum magnets are versatile, robust magnetic separators that are well suited to a wide range of applications, including those in the food, plastics, powder and bulk, grain and milling, and metal recycling industries.

Plate Magnets

Plate Magnets capture fine metal particles from chutes, suspended in powdery, moist, clumpy, abrasive or bulk materials. Various models available. For all industries including, Food, Powder & Bulk, Grain & Milling, Recycling and Plastics.

Magnetic Cartridges & Grate Magnets

Grate Magnets and Magnetic Cartridges are engineered to achieve balance between reach-out and holding force. Can be used in all industries.

Hump Magnets

Hump Magnets are for high-volume product flow. Offset design breaks up clumps and directs material into magnetic field. Self-cleaning model available. For all industries.

Magnetic Pull Test Kits

These test kits has been developed for the purpose of field inspection, measurement and performance analysis of permanent magnetic separation equipment to guard against a lapse in magnetic protection.

TurboGrate™ Magnetic Separator

TurboGrate™ Magnetic Separator features a powerful motorized rotating grate magnet to remove ferrous metals from powder and granular materials. For the Food and Powder & Bulk Industries.

Tunnel Style Metal Detectors with Conveyors

Tunnel style metal detectors can be used to inspect raw foods or for final inspection in a packaging line, to make sure their is no metal in the product before shipping to the customer.

Gravity Free-Fall Style Metal Detectors

Metal Detectors that are used to detect ferrous and non-ferrous metals as they pass through a detector in gravity free-fall applications.

Gravity Free-Fall Metal Separators – Food, Powder & Bulk

Automatically detects and rejects ferrous and nonferrous contaminants from product flow, safely and efficiently.

Metal Detector Test Standards

They are an easy and economical way to maintain consistent operation and product quality. We offer precision test blocks and ball bearings for metal detector calibration and performance checks.