Permanent Magnetic Crossbelt Separators for Aggregate and Mining
Permanent Crossbelt Magnetic Separators for Heavy-Duty Aggregate, Mining, and Mineral Applications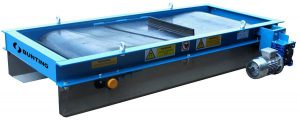 Bunting's Magnetic Crossbelt Separators have a worldwide reputation as being the most effective, efficient, and reliable magnetic separators for the continuous removal of tramp ferrous material from a product stream.
These crossbelt-style magnetic separators protect, clean, and separate materials being processed through a variety of applications in the recycling and quarrying industries. They are most commonly used on mobile crushing machinery, but their rugged construction makes them ideal for any tough environment. In order to best suit your application, we offer both permanent magnet and electromagnetic models of our Magnetic Crossbelt Separators.
Click to View Each Product:
OCW Heavy Duty Oil Cooled Electro Crossbelt Magnetic Separators
ACW Heavy Duty Air Cooled Crossbelt Magnetic Separators
Electro Crossbelt Magnetic Separators
Get Custom a Quote  

Benefits of Bunting Heavy-Duty Magnetic Crossbelt Separators:
–Overall low operating costs keep your facility moving and your budget in check.
–Self-cleaning mechanism minimizes downtime and greatly improves operational efficiency.
–Designed to be virtually maintenance free, reducing costs, downtime, and stress.
–Advanced safety features protect your employees as well as the equipment in your facility.
–Equipment can be custom designed to suit almost any application, including yours.
–Versatile mounting options facilitate ease of installation.
–Both permanent and electromagnetic options available.
Your Environment is Tough. Bunting is Tougher.
Recycling, aggregate, mining, and mineral applications are tough jobs that provide many challenging factors. Bunting has designed our equipment to deliver powerful magnetic separation, but also to provide you with a reliable, long-lasting product that you can count on. The entire system is designed for durability and capable of operating in even the harshest environments.