Gravity Free-Fall Style Metal Detectors
Metal Detectors for Gravity-Free Fall Applications

Metal detectors that are used where space is limited and without a reject option. Gravity Free-Fall Style Metal Detectors can detect all metals, whether loose or encapsulated in the product flow.
powerLINE™ 07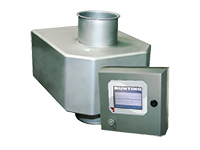 Delivers integration with simplicity of application and ultimate reliability in gravity free-fall applications, pressure or vacuum lines.
•     Patented powerLINE coil technology incorporates an integrated sensing tube into the coil construction,allowing for product flow closer to the coil for greater sensitivity.
•     Integral inlet and outlet stubs with Jacob connections shield coil from environmental interferences delivering superior reliability and requires less distance for installation. Can be installed either vertical or horizontal.
•     Features advanced 07 controls, the most advanced metal detection controls, delivering superior results with ease of use.
flatLINE™ 07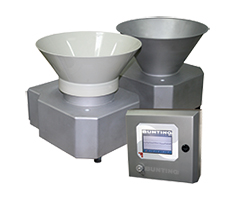 Low-Profile Metal Detector for installation in gravity free fall applications. Ideal for multi-head weighers and vertical bag filling machines where space is limited.
•     Patented product that detects all kinds of metals as inclusions or bulk parts
•     Minimum installation heights for large integration facility
•     Compact and versatile by industrial appropriate system concept
•     Central data management of up to 125 terminal devices and remote maintenance modules possible by network
•     Stores up to 999 unique product characteristics
•     Powerline coil construction reduces interference from neighboring equipment
•     Comes equipped with our AMD 07 Digital Controls with Touch Pad
•     Exclusive construction delivers the smallest metal free zone possible, while shielding the search head from outside interference.
•     Flexible designs integrate with your existing equipment. Available with integrated stainless infeed funnel or removable food-grade plastic funnel.
meTRON™ 05 CR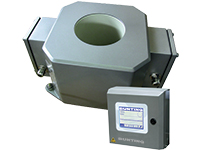 Cost-effective metal detector for the examination of bulk material in gravity free-fall applications. Closed collar-style detector monitors liquids, pastes, and slurries conveyed in pipes with premium digital controls and triple-coil, high-frequency precision. This one-piece, collar-style metal detector is designed for gravity or vacuum/pressure conveying lines.
Features include:
•     Easy installation and operation
•     Inspect products to meet ISO 9000 and HACCP standards
•     Triple-coil, high-frequency circuits for accurate detection
•     EMFI filters to minimize false signals
•     Standard with 05 controls.
•     For non-washdown applications, alternative versions are available.
The meTRON™ CR has high electronics protection rating for durability and safety. Separate electronics housing simplifies collar placement and daily operation. Beacon and buzzer alarms and product-specific reject mechanisms are available.