OCW Heavy Duty Oil Cooled Electro Crossbelt Magnetic Separator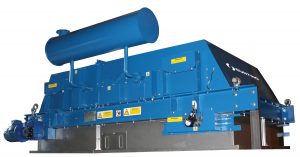 Used for applications in the Recycling and Aggregate, Minerals and Mining Industries
Bunting's OCW Heavy Duty Oil Cooled Electro Crossbelt Magnetic Separator has been designed for deep and heavy ferrous extraction. It is the most powerful crossbelt separator in our entire product arsenal, and our wide array of sizes makes it the perfect fit for any recycling operation. Due to its high magnetic strength, the OCW is able to work at an increased operating gap and with thicker burdens, enabling it to extract ferrous from the deepest troughed conveyors. OCWs are typically positioned either inline over the head pulley, or across your conveyor belts ranging from as thin as 36" and as wide as 84". Working with an even larger belt width? That's no problem—our engineers can custom design and add additional support structures as required.
• Suitable for conveyors 36" to 118" wide at operating heights up to 36".
• Heavy-duty design and powerful magnetic field make it the top choice for the most demanding applications.
• Optional armored belt is available for handling abrasive materials.
• Heat-resistant belting is available for higher operating temperatures.
• Manganese baseplate for high wear and impact resistance.
• Unique and powerful long life, deep reach magnetic coil design.
• ATEX rated models available.
Get a Custom Quote