Folding Carton
Folding Carton Cylinders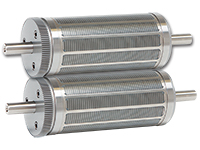 Two Bunting® Magnetic Die-Cutting Cylinders can convert your narrow web press for folding carton and other die-cut production. These cylinders give you quick changeovers and guaranteed fit.
The economical steel dies they use offer fast turnaround, snap into place right on the press, stay securely in register, save storage space, and cost a small fraction of hard tooling. Standard scribe-lines help you guide dies into position. Optional pin registration makes setups even faster. Available with optional anti-backlash gears.
Benefits Include:
•     Expand your pressroom capabilities.
•     Convert folding cartons, labels, business forms, and envelopes.
•     Prepare new jobs on the press in minutes.
•     Save time and labor on every changeover.
•     Replace costly hard-tooled cylinders with economical flexible steel dies.
•     Get raised, reversed, or interrupted creases.
•     Select burst or crush cutting or bi-level slit-over-perforation cuts.
•     Control precise depth of cut with fully hardened removable bearers.
Get a Custom Quote