Air-Cooled ElectroMax Suspension Magnet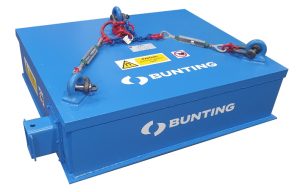 Stronger. Lighter. Better Magnetic Separation.
Bunting's Air-Cooled ElectroMax Suspension Magnet is exceptionally strong and extremely efficient in removing tramp iron from aggregate, mining, and minerals applications. It is successful at removing ferrous material in burden depth up to 25", depending on material. The durable construction can withstand severe outdoor elements. Its air-cooled design makes it equally as strong as its oil-cooled counterpart but is considerably lighter and easier to maintain.
Get a Custom Quote  

Air-Cooled ElectroMax Suspension Magnet Special Features:
• Lighter than oil-cooled electro suspension magnet design.
• Less maintenance than oil-cooled electro magnets.
• Durable construction ensures longevity of equipment.
• Ferrous material is extracted and held in place until power is turned off.
• On/Off switching simplifies removal of collected ferrous.
• Comes standard with suspension chains and hardware.
• Works on burden depths up to 25" depending on material being separated.