Material Handling Equipment
Material Handling Equipment for All Types of Applications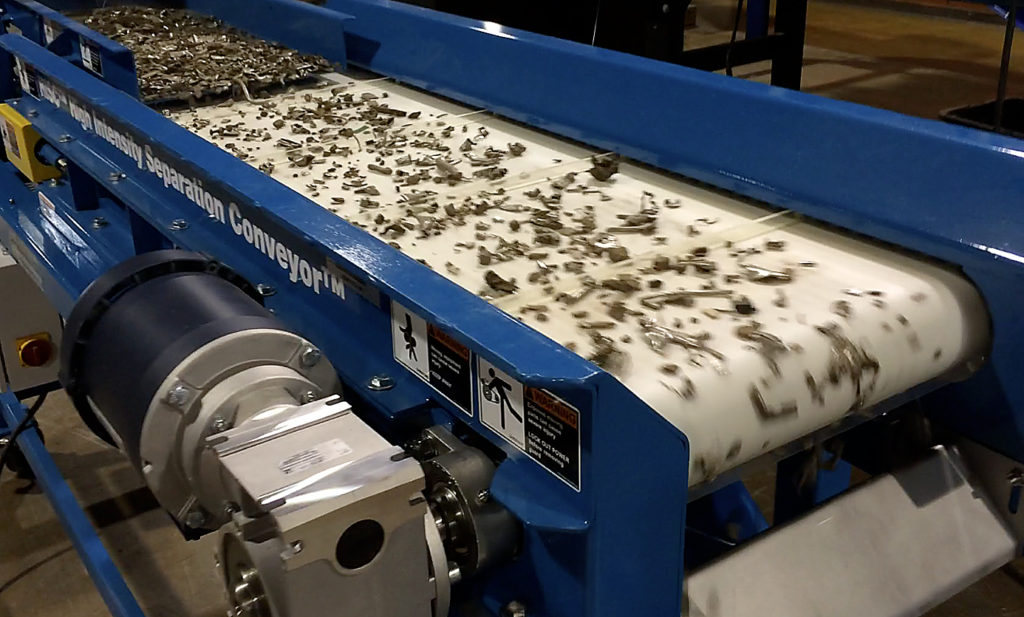 With over 60 years of experience handling just about any wholly or partially ferrous product or scrap, Bunting® offers America's most complete line of permanent magnetic equipment, conveyor components, and material handling equipment. Even plastic assemblies with minimal ferrous components in them, like circuit breakers, can easily be conveyed with the magnetic rails with positive control. You can also save valuable floor space by moving materials vertical or up and over a machine.
Request a Quote  

Benefits of Bunting® Magnetic Conveyors for Material Handling
Magnetic conveyors help maintain a steady, uninterrupted flow of material and product often at higher rates than are practical with non-magnetic units.
Bunting® conveyors have been enhancing plant efficiency for decades. There is simply no better way to handle a wide range of ferrous parts. And for those who do not require magnetics but still want superior durability, Bunting manufactures non-magnetic models that have the same well designed features and engineer support.
Conveyors Designed for Your Application
We manufacture conveyors that can be used alone or in combinations to accomplish a variety of material handling tasks. Five factors should be considered when determining which conveyor will best serve your needs: Conveyor style, angle of incline, belt width, vertical height, and horizontal extension length.
Selecting the right conveyor or combinations of conveyors for your particular application is easy with our standard magnetic conveying equipment. Utilizing standard, pre-engineered components, Bunting® offers conveyors to handle virtually any type of ferrous part or scrap by tailoring the physical dimensions to fit the application.
We can also custom design systems or tie several conveyors together for a total material handling solution. Our plant engineers can assist by providing you 3-D models and drawings to fit into your plant layout. 
High Frequency Eddy Current Separator

Features an optimized magnetic field, maximum gauss intensity, and intense separation power.

SSSC® Stainless Steel Separation Conveyor™

Separate irregular shaped paramagnetic work-hardened stainless steel – up to 5" in size – from your recycled materials or in copper wire application.

HISC® High Intensity Separation Conveyor®

Designed for extreme high gauss fields of magnetic separation of work hardened stainless steels and removal of lightly magnetic tramp metal fines.

Eddy Current Separator

The Eddy Current Separator core is designed to provide a high level of gauss intensity to enhance separation on a wide range of nonferrous conductive materials and sizes. It is protected with the tough urethane belt and a fiber shell. From aluminum cans to aluminum flakes, our ECS units do an excellent job of throw and separation.

Crossbelt Magnetic Separators for Recycling

Continuous over-conveyor separation for the recycling industry to remove ferrous materials from non-ferrous materials in plastics, wood, tire, metal and municipal scrap recycling.

Permanent Magnetic Crossbelt Separators for Aggregate and Mining

Our crossbelt magnets are renowned around the world as the most effective units for the continuous removal of tramp ferrous material from a product stream.

Electro Crossbelt Magnetic Separators

The most powerful crossbelt separators available from Bunting's current range of products. A wide range of sizes are available for this type of separator, ensuring you will be able to find an option that meets your needs. 

Shredder Feeder & Discharge Conveyors

Grinder Feeder Conveyors can be used to protect your Shredder from being damaged by separating out the metal contaminant with a magnetic cross-belt or metal detector before the product is transferred to a shredder, and Discharge Conveyors can purify your product on the way out.

DragSlide Conveyors

DragSlide conveyors are totally enclosed and use UHMW drag flights in a chain conveyor design to move and convey film & fiber materials within a sealed conveyor. This makes for a much cleaner facility allowing you to use your employees for production versus clean-up maintenance.

Bale Inspection Conveyors

Bale Inspection Conveyors with metal detectors provide inspection for baled recycled materials. Can be used as either a stand-alone conveyor or as an in-feed conveyor to the shredder line.

Bale Break Conveyors

Bale Break Conveyors break up bales of recycled plastic bottle containers. Heavy-duty construction for rigorous applications. Designed to improve loading and separations efficiency with recycled materials.

Sorting Table Conveyors

Most commonly used in the Municipal Recycling Industry, this Sorting Table Conveyor is built with short sideguards and UHMW skirting for safety. Complete with elevated working mezzanines, stairs, drop chutes and belly rests for the operator's comfort.

Trough-Belted and Transfer Conveyors

Horizontal and inclined regrind or pellet transfer conveyors in any size your application requires. Various belt styles including smooth flat flexed wall, cleated or cleat topped belted conveyors to transfer bulk material to a Granulator or storage facility.

MagSlide® Conveyors

These are ideal for use anywhere you need to transfer ferrous chips, turnings, and small parts from lathes, mills, or stamping presses or from slitting, forming, and other metalworking operations.

Washdown Can Conveyors

Move and control full and empty cans safely and efficiently, without can damage. For high capacity systems in a wet or washdown environment.

Magnetic Lawnchair Conveyors

Designed for conveying steel parts from under machine presses, and to automate scrap and parts removal in the metal stamping industry.

Parts Retrieval Conveyors

Deliver operational flexibility with our magnetic parts retrieval conveyors that are ideal for removing ferrous parts from de-burring and finishing vibratory bowls.

Magnetic Stacking, De-Stacking, and Timing Belt Transfer Conveyors

Magnetic Stacking/Destacking Transfer Conveyors are designed to convey sheets of different dimensions into and out of presses, welders and shears.

Upstacking Pulleys

Adjustable Magnetic Upstacking Pulleys use VFD variable speed drive motors to fan, stabilize, control and feed lids into sleeves or feeding machines. For use in the Canning Industry.

Magnetic Pulleys

Offering superior continuous removal and discharging of ferrous contamination like nails, staples, bolts, and wire from conveyors, all with maintenance free operation.

Low-Profile Conveyors

Built to withstand punch presses, automated operations, or under-press jobs. Minimum maintenance with varying belt widths. Can be individually mounted or gang driven.

Medium Frame Conveyors

These conveyors are an ideal economical solution for pulling parts out of a machine, conveying parts down long trunk lines, or controlled feeding of parts or sheets into press applications.

Standard Frame Conveyors

Used for conveying your ferrous parts such as bolts, nails, stamped parts or assemblies around the plant, from one machine to the next operation or to stabilize part in feeding applications and to convey larger ferrous scrap out of a press over to a dumpster.

Powertrac® Conveyors

Increased efficiency with automated procedures. Built with robust aluminum t-slotted frames, knurled drives with rack and pinion take-up. Easy maintenance through v-guided belts.

Move-IT™ Systems

Move-IT™ Conveyors are built to order but priced like stock, available in the most common conveyor sizes and can be custom ordered in a wide range of lengths and widths to fit your application.

Mattop Belted Conveyors

Usually designed for specific applications where the smooth top surface of a mattop belt has advantages over a fabric belted conveyor. Mattop belted conveyors are easier to slide parts across the belt and are better for accumulation applications.

Magnetic Sheet Fanners

Pry apart oil, sticky, polished, or pre-finished ferrous sheets. Come in four styles: Switchable, machine mounted permanent, pivoting permanent and retractable pin sheet fanners.

Permanent Magnetic Conveyor Components

Our Permanent Magnetic Conveyor Components offer easy installation and years of trouble-free service in even the most demanding applications. Each component is available in a variety of sizes and magnetic strengths.

Magnetic Plate Rails

Used in horizontal and inclined fabric and mattop belted conveyors in wet wash-down applications. Built with the strongest magnetic rails in the industry. Our engineers are here to help you pick the right magnetic rail for your application.

Aerosol Test Bath Magnetic Rails

Our Magnetic Test Bath Rails are designed and manufactured for either a single or a dual lane chain for maximum hold down and are engineered and designed for your tank, your chain and your application.

Heavy Duty Drum Magnets

The Magnetic Drum Separator is normally installed at product discharge points and incorporates a 150 - 180 degree magnet system, encased in a stainless steel shell, or manganese wear plates for severe application.

Suspension Magnets

Permanent Suspension Magnets are designed specifically for the extraction of occasional tramp iron from material being processed on the conveyor belt, vibratory feeder or gravity chute.

Heavy Duty Eddy Current Separator

The Eddy Current Separator (ECS) is an advanced metal sorting unit that is capable of separating non-ferrous metals such as aluminium and copper from dry recyclables.

Rare Earth Masteroll Separator

Powerful magnets for the effective purification of dry fine or course material containing ferromagnetic and paramagnetic particles.

WHIM Magnetic Separator

Wet high intensity, high gradient WHIM separators are used for the continuous extraction and concentration of fine paramagnetics (less magnetic material) presented in a wet state.

Disc Separator

Disc separators are widely used to ensure an accurate separation of materials that have varied magnetic susceptibilities.

Induced Roll Separator

Induced roll magnetic separators are used for the continuous extraction of small magnetic particles from certain minerals to produce mineral purification for a wide range of mineral and ceramic processing industries.

Magnetic Head Pulleys

Magnetic Pulleys provide continuous protection against Tramp Iron contamination of both large tramp iron and fine metal particles.