Gravity Free-Fall Style Metal Separators – Recycling and Plastics
Separate Metal in Gravity Free-Fall Applications

Gravity Free-Fall Style Metal Separators automatically detect all ferrous and non-ferrous metals without process interruptions by separating contaminated materials from product flow. For HACCP safety, this detector is an efficient Critical Control Point (CCP) when detecting metal in any free-falling product. The products below can be used in the Recycling and Plastics Industries.
Request a Quote  
quickTRON™ 03R
Low-cost triple-coil separator offers superior sensitivity, simplicity, and reliability. Specifically designed for use in plastics and recycling industries.
The quickTRON™ 03R is designed for demanding plastics applications. It features:
•    Economical, compact design
•    Detects and rejects small fine materials
•    Accurate even with abrasive products
•    Recommended wherever removal of fines is critical
•    Housing Controls are contained
QuickTRON™ 03R units provide consistent performance in demanding applications. High-speed stainless steel reject mechanics allow for compact design. This advanced transmitter/receiver detection system comes in a money-saving package. Units are fully self-monitoring. Integral brackets simplify mounting.
Video showing the reject mechanism of the quickTRON™ 03R
quickTRON™ 05 (Flap or Cowbell Style Diverters)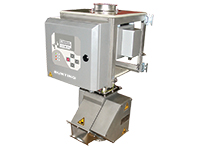 Uses CR coil for reliable detection and is cost effective for the examination of bulk material in gravity free-fall applications. It is designed for the Food, Grain & Milling, Powder & Bulk, Plastics and Recycling industries.
•    Flap option is recommended for powders, fine granular or dry products.
•    Cowbell option is recommended for abrasive, sticky or non-powdered products.
•    Simple 05 controls. Remote mounted controls available.
•    Stainless steel, washdown, or painted versions available.
•    Utility-grade and food-grade models are available.
•    ATEX (Explosion proof rating) hazardous environment rating available for Flap style unit.
HS 9050/9100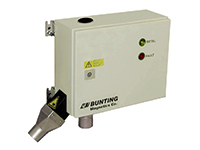 Entry-level, economical HS Separators pneumatically reject isolated metal debris from powders, granules, and other bulk materials. The HS Metal Detector is designed for all Gravity-Fed applications in Plastics and Recycling. It features:
•    Economical, compact, and versatile
•    Fully self-monitoring
•    Adjustable sensitivity and rejection
•    Low-maintenance operation
HS Detectors have a single electronics board enclosed in a dust-tight steel housing and feature single-coil detection. Air-powered stainless steel flap offers rapid rejection cycling for cleaner results. HS Detectors monitor their sensors, mechanical function, voltage, and air pressure.
Machine Mounted All-Metal Separators (MMS)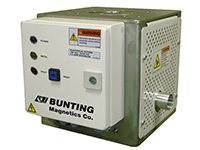 Designed to be a last chance metal separator to be mounted on an injection molding machine or extruder in the Plastics industry. Provides efficient rejection of both ferrous and nonferrous metal contaminants.
•    Designed especially for choke-feed applications
•    Can be bolted directly to the in-feed of processing equipment and support the weight of hoppers and bins.
•    Fast pneumatic rejection mechanism aided by precise timing results in accurate cycling and conservation of good material. Slide gate rejection design eliminates contamination "leaks".
•    Hi-Temp version available for use where the product is at a higher than normal temperature. Handles temperatures up to 350°.