Tube-Style Magnets for Non-Wovens
Magnets for Separation and Removal of Bulk Contaminants

Magnetic Cartridges (also called Rods or Tube Magnets) are engineered to achieve the optimum balance between reach-out and holding force. Cartridges can be mounted individually or in multiple-row arrays. Cartridge magnets are to be used in gravity free-fall magnetic separation applications.
Tube-Style Magnets
Both standard and heavy-duty models are constructed of durable 304 stainless steel tubing and are available with threaded hole, threaded rod, or plain sealed end plugs. 316 stainless steel is also available. End plugs are fully welded into the tough 1-inch diameter tubing for added durability. Either will quickly grab metal.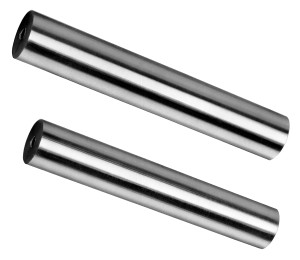 Powerful magnetic tubes to remove ferrous contaminants.
Ceramic, and High-Intensity Rare Earth magnets are available.
Select tapped, sealed or studded ends.
Standard 1″ round cartridges start at 4″ lengths.