Corrugated Board
Engineered for Single or 4-Color Process Corrugated Board Printing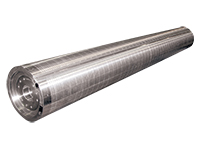 The magnetic corrugated cylinder will enable you to finish more jobs per day, reduce operating expenses and get the quality results you desire.
You can complete multi-color jobs faster than ever and save on remakes and plate costs, too. Instead of using full-size plates, you can run more economical image-size metal-backed plates. Nobody builds a better, more durable cylinder for corrugated work.
Magnetic Corrugated Cylinders Feature Cast Aluminum Ring Design
With Bunting's continuous cast aluminum ring design, there's nothing to loosen or separate. So you can expect this magnetic corrugated cylinder to last the life of your press.
Benefits include:
•     Change plates between jobs, not cylinders.
•     Save time with fast, positive on-press mounting.
•     Maintain precise registration thanks to powerful embedded magnets.
•     Use your conventional plates with steel carriers or with our optional mounting systems – which are compatible with Matthews, Cosco, and other lockups.
•     Use high-resolution laser-engraved steel-backed rubber plates for exceptionally fine detail.
•     Get the perfect cylinder for today's short-run 4-color jobs