Non-Woven
Magnetic Separation and Metal Detection for Nonwoven Fabrics

Nonwoven fabrics are innovative materials that serve diverse needs across many different industries. These fabrics are often designed for specific functions, such as absorbency, sterility, liquid repellency, flame retardancy, sterility, and filtering. Examples of non-woven products include sterile medical-use products, upholstery, diapers, apparel linings, civil engineering fabrics, carpet, wipes, and more. Non-woven fabrics may be designed for single-use, limited-life, or long term use.
Bunting magnetic separation and metal detection products are designed to remove metal contaminants, from non-woven materials before they reach the customer. Items such as needles, pins, staples, and other metal contaminants are swiftly detected and removed by our line of innovative magnetic separation and metal detection equipment designed specifically for the needs of the non-woven industry.
Request a Quote for Your Nonwoven Applications 

Magnetic Separation and Metal Detection: Custom Designed for the Non-Woven Industry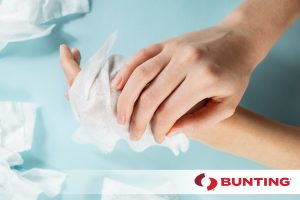 We have been able to optimize the magnetic separation and metal detection equipment we offer for the nonwoven fabric industry by closely studying the unique needs and challenges manufacturers experience throughout production. Our equipment is designed to resist clumping and break up aggregated material in order to dislodge and capture any metal contamination embedded within the material. By incorporating advanced circuitry into our metal detectors, we reduce false signals and in turn reduce product waste.
Reliable, robust performance; precision engineering; strong magnets and solid construction come standard in every Bunting® product. We have a heritage of over 60 years, and we promise to provide the best service, support and products from your first call to the final installation. Whether you need just one tube magnet to serve as your magic metal-pulling wand, a single custom piece of equipment, or a complete system tailored from the ground-up, our team of experts will help identify your need based on your non-woven application.
Bunting products allow your operations to remain efficient by improving the purity of your product and reducing the need for downtime. When you are working with non-woven fabrics, it is highly important that no metal contamination is allowed to remain within a product and potentially harm a consumer. Bunting's magnetic separation and metal detection equipment allows you to have confidence that your non-woven fabric is free of metal contamination and safe for your customers.