SSSC™ Stainless Steel Separation Conveyor™
SSSC™ Stainless Steel Separation Conveyor™
Magnetic Separation of Small to Large Sized Stainless Steel 1" to 5"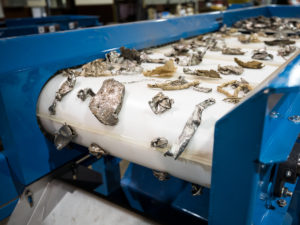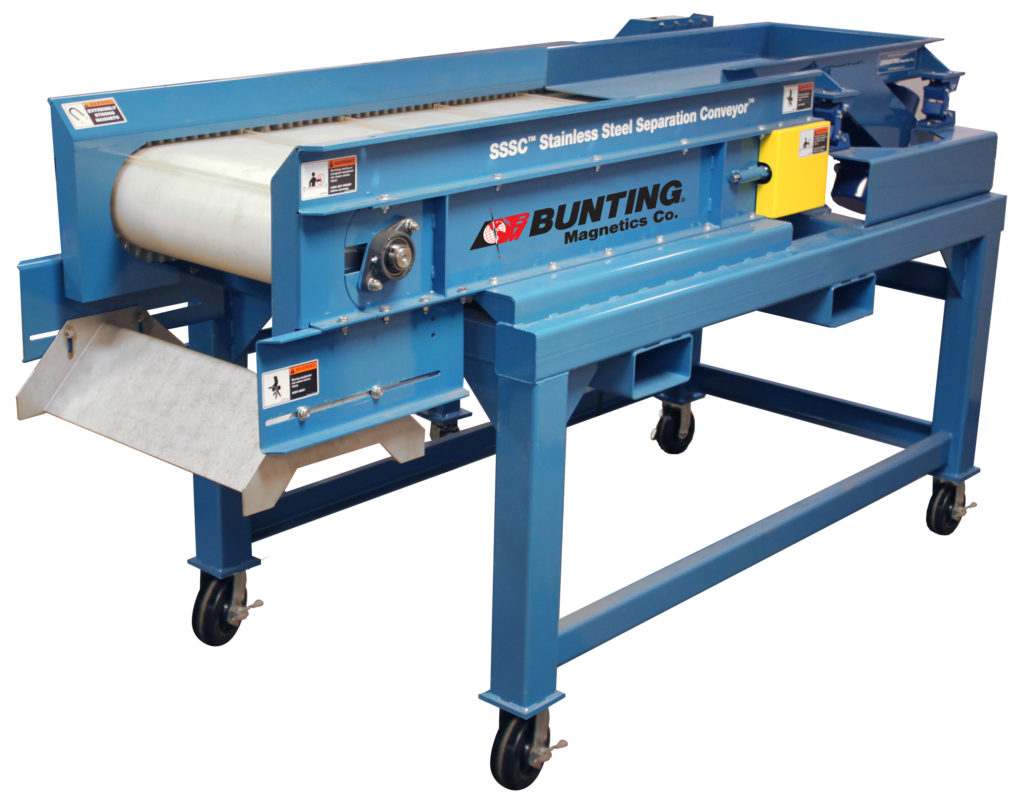 Discover the latest invention in stainless steel separation from Bunting® Magnetics Co. With the SSSC™ Stainless Steel Separation Conveyor™, you can hold, attract and extract irregular shaped paramagnetic work-hardened stainless steel – up to 4" to 5" in size – from your recycled metals or in copper wire application. Thanks to a patent-pending core design and a revolutionary configuration of high-intensity neodymium rare earth magnets, maximum separation of big pieces of work-hardened stainless steel – materials once thought impossible to separate – are now easily attracted and extracted for the purest product possible.
Applications
•    ASR Stainless Steel Separation / Zurik Purification
Magnetically pulls out stainess steel recovering from the Finder stream or purifying a
dirty zurik stream.
•    Appliance Recycling Stainless Separation
Magnetically recovering lost stainless steel to improve profitability
•    ICW Wire Separation / Wire Chopping Purification
Magnetically pulls out stainless steel to clean wire so it can be chopped or processed
by pulling stainless steel rom chopped wire for purification
Features
•    8" pulley diameter to hold larger stainless steel fractions
•    Patented Neodymium Cross-Grid magnetic pulley pattern encased in stainless steel
•    2-ply urethane belt with 30mm flexwall and ½" v-guide cleats on 12" centers
•    60-120 fpm variable speed with VFD depending on application
•    Heavy duty formed 3/16" sideguard with flexwalled belt to seal off and contain flow
•    Heavy duty formed 3/16" frame with stainless steel frame at disc and forklift lifting slots for installation
•    ¾ to 2 hp 3ph 60hz motor
•    General capacities between 500-1000 lbs/per hour per foot width of conveyor on smaller and stainless and wire fractions. Capacities between 1,000-2,000 lbs/per hour on larger fractions
Optional Vibratory Feeder
•    Provides uniform single-layer feeding for maximum separation efficiency
•    Customizable width and length to match applications
•    Power supply and isolator designed to match flow requirements
•    Mild steel or stainless steel fabrication
•    Comes complete with controls and can be integrated into existing system
Click here to download our brochure.