HISC® High Intensity Separation Conveyor®
HISC® High Intensity Separation Conveyor®
Magnetic Separation of Small and Mid-Sized Stainless Steel ½" to 1½" & For Wire-Cleaning Applications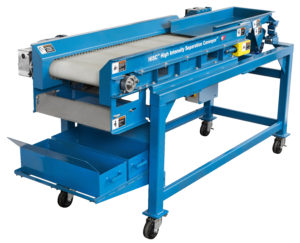 The first of its kind in the industry, the HISC® High Intensity Separation Conveyor® incorporates extremely high gauss fields, neodymium rare earth magnets and a field-tested design to achieve maximum stainless steel separation of smaller stainless steel fractions. Through Bunting® Magnetics Engineering and Magnetic Finite Element Design software technology we've developed technology to attract, hold and extract paramagnetic work-hardened 300 stainless steel metal and chips from your product stream. Designed for the ASR (Auto Shredder Residue) Industry for purification of zurik fraction and fluff applications, the HISC® High Intensity Separation Conveyor® promises that recycled chopped wire, plastic flake, e-scrap and more can also now be stainless-free.
Applications

•    ASR Stainless Steel Separation / Zurik Purification
Magnetically pulls out stainless steel from the finder stream or recovery of stainless steel from small fractions to improve purity for domestic sales (estimated purity levels of up to 98%).
•    Appliance Recycling Stainless Separation
Magnetically recovering lost stainless steel to improve profitability.
•    ICW Wire Separation / Wire Chopping Purification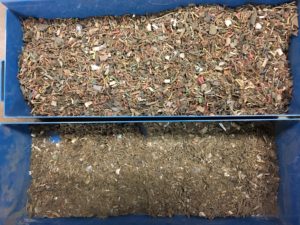 For wire-cleaning applications, it magnetically pulls out stainless steel and ferrous dirt for less knife damage, higher throughput and higher profitability. Tests show total volume of stainless steel and ferrous dirt removed is approximately 15% by weight.
•    Consumer Product Recycling
Magnetically attracts and extracts stainless steel from razor blades, medical waste, small computer screws and green boards with attached chips.
Features
•    Available in 4" or 6" pulley diameter (6" for wire lines and small fraction stainless steel).
•    Neodymium Exposed Pole magnetic circuit
•    2-ply urethane belt with 30mm flexwall and ½" v-guide cleats on 12" centers
•    60-120 fpm variable speed with VFD depending on application
•    Heavy duty formed 3/16" sideguard with flexwall belt to seal off and contain flow
•    Heavy duty formed 3/16" frame with stainless steel frame at discharge and forklift lifting slots for installation
•    ¾ to 1½ hp 3ph 60hz motor
•    500-1,500 lbs per foot/per hour depending on application
•    Adjustable splitter with hand-driven wheel rack and pinion adjustment
Optional Vibratory Feeder
•    Provides uniform single-layer feeding for maximum separation efficiency
•    Customizable width and length to match applications
•    Power supply and isolator designed to match flow requirements
•    Comes complete with controls and can be integrated into existing system
Click here to download our brochure.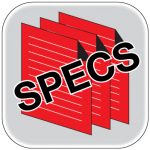 HISC® High Intensity Separation Conveyor® – Technical Specifications