Rare Earth Masteroll Separator
For the purification of dry fine or course material containing ferromagnetic and paramagnetic particles
The Rare Earth Masteroll incorporates Neodymium magnets, which are the most powerful permanent magnets available and are built into a composite high-intensity magnetic head pulley.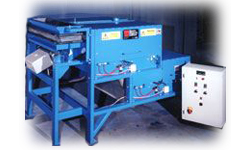 Material to be treated is fed by a vibratory feeder onto a short centred thin conveyor belt, which presents an even feed of material onto the magnetic roll.
As non-magnetic material is discharged forward of the roll in the normal trajectory, any magnetic elements present are securely held onto the belt by the magnetic force and are discharged down a rear chute as the belt leaves the magnetic field on the underside of the roll. Separation trajectories are set by adjusting the conveyor speed using the inverter control setting on the control panel and adjusting the splitter chutes.
Magnetic rolls are available in 2.95 inch, 5.90 inch, and 7.87 inch diameters, up to a width of 3.28 feet. Multiple configurations of rolls are offered giving the non-magnetic fraction a further pass for improved product purity.
Material from .003 to .590 inches can be treated.
Typical Applications
Magnetic Roll Separators can be used in a variety of applications including:
•   Ceramics
•   Pharmaceuticals
•   Granulated slag
•   Iron ores
•   Plastics silicones
•   Ilmenite
•   M ICA
•   Crushed glass
•   Refactory material
•   High purity quartz
•   Garnet
•   Talc
…and many others!