Metal Detector For Film, Web, or Textile Applications
Flat Coil Metal Detector

The profiLINE™ is a flat coil metal detector for Film or Web industry and helps ensure quality in films and non-woven textiles. The metal detector can protect calendar rollers and removal of needles in film. Also can ensure metal-free food-grade plastic film.
profiLINE™ 04/05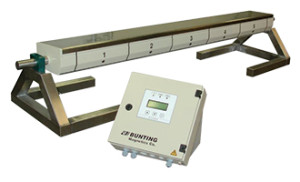 These Flat Coil Detectors prevent costly repairs and production downtime. Units are self-monitoring for added reliability. The ProfiLine features advanced circuitry which reduces false signals and product waste.
•     Extremely low profile with superior sensitivity on coil surfaces.
•     12 inch side segments for pinpoint accuracy.
•     Available up to 40 feet wide.
•     Individual LED Outputs.
•     04 Software enables you to pinpoint contaminated zones. Multi-port output to trigger other processing equipment.
•     05 Software delivers a single overall control zone.
Get a Custom Quote