Pneumatic Style Metal Separators
Ideal for Pressure, Suction or Vacuum Conveyor Lines

Pneumatic Style Metal Separators detect and reject all metal types in enclosed pipe systems. Machines are easy to operate, maintenance free and quick-acting.
pTRON™ 05 & 07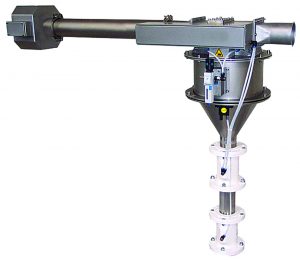 The metal separation solution for vacuum or pressure conveyance of dry granular or powder material.
•     Fast acting flap reject assures minimal loss of good product while ensuring reliable separation of contamination.
•     Positive Speed Control assures that the flap activates at the precise time.
•     Double Pinch-Valve reject assures no loss of system pressure.
•     Features 05 or 07 controls.
•     ATEX hazardous environment rating available.*
pTRON™ 03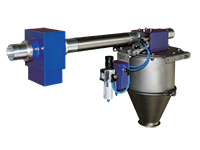 This pneumatic style metal separator is ideal for intermittent vacuum conveying lines.
•     Detects and separates any type of metal, loose or encapsulated
•     Flexible integration into existing conveying systems
•     Independent of direction, quick and cost-effective
•     Easy to operate, with uncompromising safety
•     High-precision metal detection, extremely reliable
•     Quick-acting reject flap for minimal loss of good product
•     Minimal loss of good product no loss of vacuum during reject event
•     Features 03 Controls
The product has a quick-acting, separator point with powerful, long-life,maintenance-free pneumatic drive. It features extremely flexible versions for horizontal and vertical installation available, (standard nominal diameters: 38 mm – 80 mm, other sizes on request).
The P-Tron 03 FM is immune against external disturbances thanks to the newest detector coil "LCR Compact" with "Interference Shield" and changeable Antistatic-Scanning Pipe. The modern Dual Channel Digital Technology has conveying speeds up to 30 m/sec and Product-Effect Compensation.