Induced Roll Separator
Induced Roll Magnetic Separator by Bunting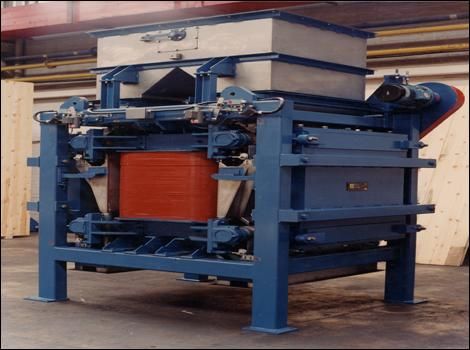 Bunting's Induced Roll Separator offers continuous extraction of magnetic particles for optimal mineral purification. The induced roll separator continuously extracts small magnetic particles from minerals being processed, resulting in a final mineral product of exceptional purity. This separator is an excellent choice for implementation in a wide range of mineral and ceramic processing industries. Most commonly, the induced roll separator is used to separate weakly magnetic or paramagnetic minerals from non-magnetic minerals when material is in a dry state. These non-metallic minerals are widely used in the production of plastics, ceramics, paper, glass, and many other common materials. Feldspar and silica sand are examples of minerals that are typically processed.
While in operation, magnetic material attaches itself onto the roll face, or is deflected towards the roll. Any material that is non-magnetic is thrown from the face of the roll at a normal trajectory. When magnetic material reaches a point of lower magnetic intensity, it is discharged off the roll face (aided by a brush). Between the two product streams, a splitter plate is interposed.
Click to Request a Quote

Magnetic Separation for Optimal Mineral Purification
The induced roll magnetic separator achieves separation by exploiting magnetic properties of the material it is processing, no matter how feeble it may be. However, due to the high intensities involved in the operation of this series of induced rolls, it is essential that highly magnetic material be removed prior to treatment by the main rolls. To achieve this, we can supply a magnetic scalper roll that forms part of the iron circuit of the main rolls. If iron levels exceed 0.5%, we recommend utilizing our Drum Separator as opposed to the induced roll separator.
The design of our induced roll separators has been perfected by engineers with a lifetime of experience in this field.
Features of the Bunting Induced Roll Separator include:
–Feed hopper with non-magnetic stainless steel construction and a finely controlled adjustable feed gate with positive shut off, designed for uniform feed with minimum bounce. A large surge hopper can be supplied if required.
–Laminated roll construction with a non-magnetic shaft and the option of a smooth or serrated roll face.
–Constant or variable speed drive motor.
–Adjustable pole nose to maximize dwell time poles of different profiles.
–Adjustable splitter plates.
–Totally enclosed control panel meets IP-65 specification incorporating solid state circuitry. A constant current device is available.
All Bunting Induced Roll Separators are designed with the plant operators in mind to achieve ease of operation and maintenance. Great attention is paid to detail and quality of workmanship.