Special Order Cylinders
Customizable Special Order Cylinders for Various Applications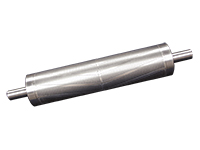 All Bunting® Magnetic Cylinders are custom made – and guaranteed to fit – the presses on which they will be used. But we also make special order magnetic cylinders for customers with unusual applications. These might be cylinders made to non-standard dimensions or outfitted with special bearers, or equipped with high-energy Neodymium magnets. Whatever your requirements, we can meet them. You can be confident that your special order magnetic cylinder will save you time, save you money, and offer the superior printing results provided by all Bunting® Magnetic Cylinders.
Get Superior Results with Special Order Cylinders
Take advantage of Bunting® engineering expertise and manufacturing precision for your nonmagnetic as well as your magnetic cylinders. Our Special Order Nonmagnetic Cylinders can be used to replace ordinary OEM cylinders or to meet the requirements of extraordinary applications. Or order them to complement the quality of Bunting® Magnetic Cylinders in die-cutting and hot stamping operations.
Like standard Bunting® Cylinders, these are built out of premium materials, precision ground for an accurate printing periphery, and guaranteed to fit your press. A selection of mounting systems is available to use with your conventional plates and dies.
Get a Custom Quote