Wedge Magnets
Prevent Tramp Metal Damage to Equipment

Wedge Magnets provide economical protection against tramp metal damage for pellet mills and other equipment used to process particulate or semi-solid materials under gravity flow. Wedge Magnets are ideal for installation in narrow, vertical, or steeply inclined chutes that are easily accessible and can be opened for inspection and manual cleaning.
The wedge shape resists bridging and diverts the product flow across the front and back collection surfaces where magnets located behind the outer stainless steel skin capture and hold ferrous contaminants.
Wedge Magnet Features: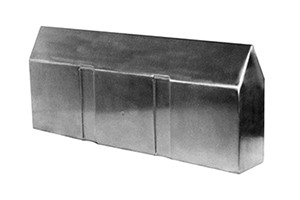 Designed for installation in narrow chutes where materials are under gravity flow.
Stainless steel skin resists wear and corrosion.
Minimum mounting space required.
Wedge shape helps prevent product build-up and bridging.
Mount multiple units in large chutes.
High-Intensity Rare Earth magnets are available.