Cleaning Systems
Protection Against Ferrous and Nonferrous Debris
Multiple combinations of magnetic and electronic separators can be used to meet your specific requirements. Cleaning Systems are designed for maximum protection against ferrous and nonferrous debris by combining magnetic and electronic separators. They are the perfect solution for purifying regrind and recycled goods in a plastics plant.
Cleaning Systems
Cleaning systems combine magnetic and electronic separators to remove both ferrous and nonferrous contaminants efficiently from free-flowing virgin resins, regrind, and recycled plastics. They are an excellent choice wherever the volume and variety of metal debris might overload a single separator. The sturdy steel framework provides easy component access and includes a receiving hopper.
Cleaning systems combine magnetic separators with metal detectors to match the demands of specific applications.
•     Adjustable sensitivity and rejection cycling features conserve good material
•     Automatic Product-Effect Compensation increases reject accuracy
•     Open frame construction offers easy access to all components
•     Electronics are sealed against dust
Examples of Continuous Cleaning Systems include:
1. Duplex Separator, FF Drawer Magnet and Electronic HS Metal Detector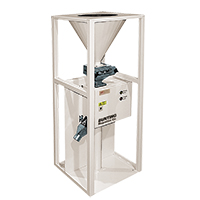 By capturing ferrous debris, the Drawer Magnet reduces the number of HS reject cycles, which further reduces material waste. The HS Detector acts as a backup for removing ferrous contaminants and rejects other common nonferrous metal contaminants as well. Working in tandem, these two component separators can eliminate virtually all tramp metal from the plastics you process.
2. By the Press Cleaning Station, Drum Separator and QT-03 Metal Detector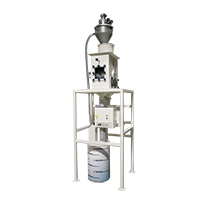 The electronic metal detector senses and rejects both ferrous and nonferrous metals. It offers adjustable sensitivity and a fast-acting rejection mechanism.