TurboGrate™ Magnetic Separator
TurboGrate™ Magnetic Separator for Difficult Materials
Our newly redesigned TurboGrate™ Magnetic Separator removes ferrous metals from powder and granular materials with even the most difficult flow characteristics. It is specifically designed for gravity free-fall applications. The TurboGrate™ features a powerful motorized rotating grate magnet which processes material, such as cocoa, baking mixes, or other fatty and oily mixtures that would bridge traditional grate assemblies.
TurboGrate™ Magnetic Separator Features Top Quality Construction

The streamlined design elements adhere to the top quality construction standards that our customers expect.
• Food grade finish is standard.
• Self-Cleaning option available.
• Neodymium High-Intensity Rare Earth magnets are standard.
• Two standard sizes are available for up to 12" spouting.
• Can be custom designed to fit your installation requirements.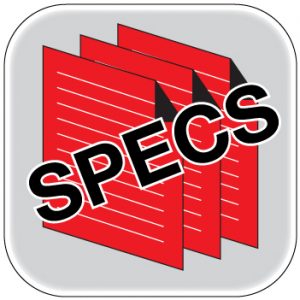 TurboGrate Magnetic Separator – Technical Specifications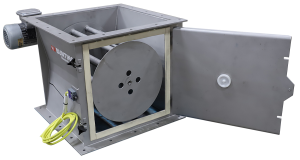 Our sanitary-grade metal separators are the first separators to earn USDA, AMS-Acceptance. Our engineers refined existing designs to help processors meet increased marketplace demands and governmental requirements for safer and purer foodstuffs, meats, pharmaceuticals, and chemicals. All of these approved models have met or exceeded the USDA, AMS criteria as published in the NSF/ANSI/3-A 14159-1 2002 specifications, passed inspection, and earned the right to bear the USDA, AMS Meat and Poultry Accepted Equipment logo.