TurboGrate™ Magnetic Separator
TurboGrate™ Magnetic Separator for Difficult Materials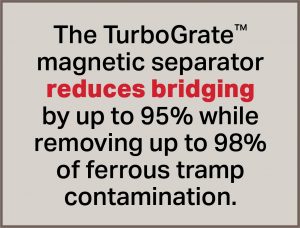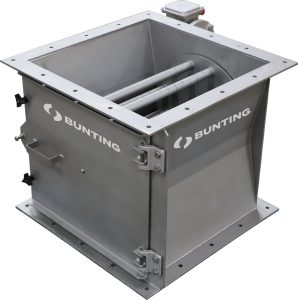 Bunting's TurboGrate™ magnetic separator excels at removing ferrous metal contamination from powder and granular materials—even those with the most difficult flow characteristics. This magnetic separator has been specifically designed for gravity free-fall applications, and it is easy to install within your existing facility. The TurboGrate™ features a powerful motorized rotating grate magnet, which easily processes materials such as cocoa, baking mixes, and other fatty or oily mixtures that would bridge traditional grate assemblies.
Get a Custom Quote

The TurboGrate™ has a streamlined design that allows for easy integration with any existing processing system. It comes standard with a food grade finish, and is also available in a self-cleaning option. It features neodymium high-intensity rare earth magnets, which are the most powerful magnet in the world and deliver superior magnetic separation. There are two standard sizes available, suitable for up to 12" spouting. Additionally, the TurboGrate™ can be custom designed to fit any specific installation or general application design requirements you have.

When handling materials that are prone to bridging, flowability is a key factor in every element of design. By featuring a rotating grate magnet, material is being continuously moved and agitated. This helps combat bridging that can occur as a result of product being allowed to settle. As product continuously flows over the rotating grate magnet, the powerful magnetic field pulls even the smallest particles of ferrous metal contamination from the material, holding these contaminants tightly to the magnet's surface so that they do not re-enter the product stream.
TurboGrate™ Magnetic Separator Features Top Quality Construction
The streamlined design elements adhere to the top quality construction standards that our customers expect.
• Food grade finish is standard.
• Self-Cleaning option available.
• Neodymium High-Intensity Rare Earth magnets are standard.
• Two standard sizes are available for up to 12" spouting.
• Can be custom designed to fit your installation requirements.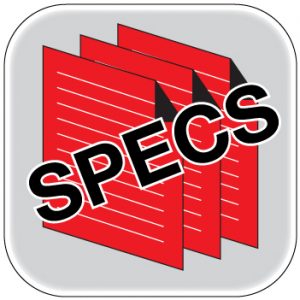 TurboGrate Magnetic Separator – Technical Specifications 

Bunting's sanitary-grade separators are the first of their kind to earn USDA, AMS-Acceptance. Our team of engineers refined existing designs in order to help processors meet increased marketplace demands and governmental requirements for safer and purer foodstuffs, meats, pharmaceuticals, and chemicals. All of these approved models have met or exceeded the USDA, AMS criteria as published in the NSF/ANSI/3-A 14159-1 2002 specifications, passed inspection, and earned the right to bear the USDA, AMS Meat and Poultry Accepted Equipment logo.
Get a Custom Quote