Metal Detectors for Conveyors – Recycling and Plastics
Protect Your Product and Equipment with Metal Detectors for Conveyors

Our metal detection equipment works in conjunction with our conveyors to protect your product and equipment from damage. The metal detectors listed below are specific to the Recycling and Plastics Industries.
meTRON™ 03 SL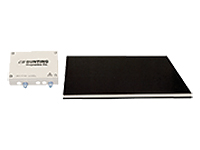 Installed directly under conveyor belts, triple-coil MeTron™ SL Detectors monitor flat products and materials with shallow burden depths. This low-profile detector features:
•     Minimal conveyor modification required to install
•     Balanced-coil technology for more accurate detection
•     Integrated Metal Free Zone
The MeTron™ SL Detector provides a low-cost solution for preventing damage to downstream equipment.  MeTron™ SL Detectors have been designed for easy under-belt installation.
meTRON™ 05 S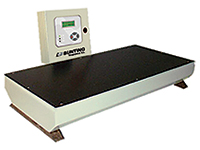 These single-sided, triple-coil under the belt detectors install in belt conveyor systems and scan through the belt into product with a maximum burden depth of six inches. This single surface detector works well for Belt Conveyors and Vibratory Chutes and it is:
•     Features Triple-coil circuitry for accuracy
•     Equipped with EMFI filters for reduced waste, misses, and false alarms
•     Features low-profile construction and superior reach-out
•     Reject options include pusher, flap, and cut-out devices
•     Uses 05 Controls
meTRON™ 05 VT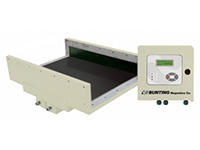 Designed to fit into vibration conveyors with little modification. Models are available to fit a wide range of trough shapes and sizes.
Features include:
•     User-friendly installation
•     No metal-free zone
•     Easy operation
An integrated vibratory conveyor can be purchased with the detector. Options include warning devices, conveyor reverse, and reject event counter.
meTRON™ 05 D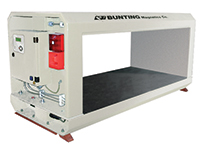 The MeTron™ D  is a two-piece tunnel-style detector that separates to install around belt conveyors and pneumatic lines. It offers triple-coil sensitivity and accuracy. It is easy to install and provides stable performance. This two-piece tunnel-style detector is perfect for Belt Conveyors and Vibratory Chutes.
Features of the MeTron™ D include:
•     Waterproof construction
•     Automatic product tracing
•     Temperature compensation
•     Built-in digital event counter
•     Epoxy-filled search head (extremely solid)
•     Serial Interface (RS-232)
•     Multi-level password protection
•     Select pusher, flap, or cut-out rejection devices
•     Signals include beacon, buzzer, and beacon plus siren warnings.
•     Combination assemblies with detector & conveyor can be custom built to your application