Standard Frame Conveyors
Conveying Ferrous Parts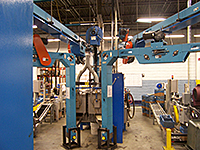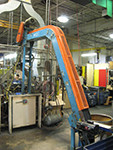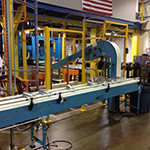 Bunting® Pre-engineered Magnetic Standard Frame Conveyors are used for conveying your ferrous parts such as bolts, nails, stamped parts or assemblies around the plant, from one machine to the next operation or to stabilize part in feeding applications and to convey larger ferrous scrap out of a press over to a dumpster. They are a very economical choice, thanks to low initial cost, low maintenance, and long-term durability.
You can also save valuable floor space by moving materials vertical or up and over a machine. Magnetic conveyors help maintain a steady, uninterrupted flow of material and product often at higher rates than are practical with non-magnetic units.
Vertical Nose-over Standard Frame Conveyors
Designed with permanent magnetic rails to hold, maintain control, turn over or conveyor your specific parts.
Available in 30-45-60-75-90 degree angles and in belt widths from 4″ to 60″ wide.
The 6 1/2″ thick frames are constructed with modular sections for layout and design flexibility.
Dozens of options available to optimize conveyor effectiveness.
Many magnetic rail options available to secure and maintain part positioning.
Horizontal Magnetic & Non-Magnetic Standard Handling Conveyors
Designed with the size and strength for long horizontal runs.
Built to run either fabric or plastic mattop belts for long trunk line applications.
Best choice to hold down parts in buffing and de-burring applications or magnetically turning parts over.
Fixed supports and mobile bases available.
Designed in both magnetic and non-magnetic transfer conveyor applications.
Bunting engineers can combine into plant systems to convey parts throughout your plant.