Permanent Crossbelt Magnetic Separation Conveyors for Recycling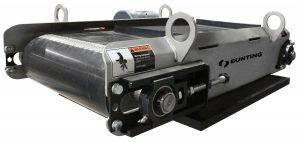 Bunting's Permanent Crossbelt Magnetic Separation Conveyors have a worldwide reputation as being the most effective, efficient, and reliable magnetic separators for the continuous removal of tramp ferrous material from a product stream.
These crossbelt-style magnetic separators protect, clean, and separate materials being processed through a variety of applications in the recycling and quarrying industries. Their rugged construction makes them ideal for any tough environment, and their powerful magnetic fields guarantee superior separation.
Click to View Each Product:
Light Duty Magnetic Crossbelt Magnetic Separator 
Standard Duty Crossbelt Magnetic Separator 
CBS MAX Crossbelt Magnetic Separator 
Permanent Crossbelt Magnetic Separators for Aggregate, Mining, and Mineral Applications
Benefits of Bunting Permanent Crossbelt Magnetic Separators:
Overall low operating costs keep your facility moving and your budget in check.
Designed to be virtually maintenance free, reducing costs, downtime, and stress.
Advanced safety features protect your employees as well as the equipment in your facility.
Equipment can be custom designed to suit almost any application, including yours.
Versatile mounting options facilitate ease of installation.
Get a Custom Quote