Standard Duty Magnetic Crossbelt Separator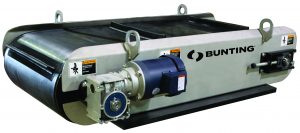 Bunting offers the most respected line of magnetic crossbelt separators in the recycling industry. Our most popular model, the Standard Duty Magnetic Crossbelt Separator, allows customers to maximize their product purity and separation effectiveness—all while significantly increasing their profits.
The distinct design of the Standard Duty Magnetic Crossbelt Separator amplifies magnetic strength and reach-out for effective metal removal, whether mounted inline at the end of a conveyor or across the belt mid-stream. The all-stainless steel frame minimizes ferrous scrap sticking to the side frames while the UHMW belt skirting and sealing prevents the metal from sticking in between the belt and the magnet.
Get a Custom Quote  

The Standard Duty Magnetic Crossbelt Separator separates ferrous metal from non-ferrous material and is the ideal means of removing ferrous metal from the product stream in a recycling facility. This cost-effective piece of equipment seamlessly integrates into your process—creating no disruptions or added steps to your process—and gives you immediate results. It protects against costly knife damage, maximizes product purification, and offers superior equipment protection on shredded material conveyed between shredders and granulators.
Select Features:
• Four deep-reach magnetic strength designs optimize separation for belt speed, product density, and burden depth.
• Stainless steel frames eliminate side frame magnetization and collection of stray metal.
• Available with ceramic magnets or high-intensity rare earth neodymium magnets for maximum product purification.
• UHMW belt skirting prevents material from getting between magnet and belt.
• Abrasion-resistant SBR (styrene butadiene rubber) or urethane coated belt.