Powder & Bulk
Remove Metal Contaminants from Powder and Bulk Applications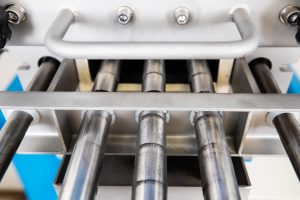 Bunting® manufactures products that serve global markets and include a broad range of Magnetic Materials. The Powder and Bulk Industry specifically uses Magnetic Separation Systems and Metal Detection Equipment to detect and remove metals from chemical or powder applications. Below you will see how we use different products in order to make your plant safer and more efficient.
Request a Quote for Your Powder & Bulk Applications 
Metal Detection
Successful detection and separation of metal will protect your processing equipment from damage, which saves your organization money and downtime. The most common type of foreign material within processing is metal. Let our Metal Detectors sense and remove the presence of ferrous, non-ferrous and stainless metals in the process flow. All food-grade (or higher) come standard with Metal-Detectable Gaskets & Grommets for an added layer of product safety and brand protection.
Magnetic Separation
Our lineup of magnetic separation equipment is designed to remove metal contamination from gravity, mechanical, or pneumatic conveying systems. The wide range of models that we manufacture can handle virtually any application with thorough removal of metal tramp. They can be ordered to meet specific construction standards and customized to satisfy special requirements.
Click here to view our Powder and Bulk catalog. 
Drum Magnet

Drum Magnet Separators come in 3 grades of Rare Earth Magnets and are self-cleaning. They provide continuous removal of ferrous contaminants from product flow.

HF Drawer Magnets

HF Drawer Magnets are for gravity flow applications. They house two or more magnetic cartridges for efficient product separation. For all industries – Food, Grain and Milling, Powder and Bulk, Recycling, and Plastics.

Magnetic Liquid Traps

Magnetic Liquid Traps remove ferrous tramp including 400 series stainless steel and work-hardened stainless steel from liquid processing and conveying lines. Comes in several styles of traps with High-energy, temperature compensated Neodymium Magnets. Metal Detectable gaskets are standard. For the Food and Powder and Bulk Industries.

In-Line Magnets

In-Line Magnets are for Gravity or Pneumatic flow applications. Enclosed pipe systems for unobstructed product flow. Rare Earth Magnets are standard. For all industries.

Pneumatic Style Metal Separators

These metal separators detect and reject all metal types in enclosed pipe systems. Easy operation, fast-acting reject flap, and maintenance-free.

Plate Magnets

Plate Magnets capture fine metal particles from chutes, suspended in powdery, moist, clumpy, abrasive or bulk materials. Various models available. For all industries including, Food, Powder & Bulk, Grain & Milling, Recycling and Plastics.

Magnetic Cartridges & Grate Magnets

Grate Magnets and Magnetic Cartridges are engineered to achieve balance between reach-out and holding force. Can be used in all industries.

Hump Magnets

Hump Magnets are for high-volume product flow. Offset design breaks up clumps and directs material into magnetic field. Self-cleaning model available. For all industries.

Magnetic Pull Test Kits

These test kits has been developed for the purpose of field inspection, measurement and performance analysis of permanent magnetic separation equipment to guard against a lapse in magnetic protection.

TurboGrate™ Magnetic Separator

TurboGrate™ Magnetic Separator features a powerful motorized rotating grate magnet to remove ferrous metals from powder and granular materials. For the Food and Powder & Bulk Industries.

Tunnel Style Metal Detectors with Conveyors – Food, Grain and Milling, Powder and Bulk

Tunnel style metal detectors can be used to inspect raw foods or for final inspection in a packaging line, to make sure their is no metal in the product before shipping to the customer.

Gravity Free-Fall Style Metal Detectors

Metal Detectors that are used to detect ferrous and non-ferrous metals as they pass through a detector in gravity free-fall applications.

Gravity Free-Fall Metal Separators – Food, Powder & Bulk

Automatically detects and rejects ferrous and nonferrous contaminants from product flow, safely and efficiently.