Bunting® Magnetics Co. To Display New Advanced Metal Detection Controls At Pack Expo 2017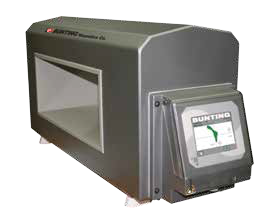 The Latest Generation Controls Adds Triple Frequency Signal Processing For Greater Sensitivities
NEWTON, KS – Bunting® Magnetics Co., the leader in moving, removing, detecting and holding metal, improves its line of closed loop tunnel-style metal detectors for the food packaging industry with optional Triple Frequency controls. The new integrated controls enhance the company's innovative imagePHASE platform by allowing the processor to learn a packaged food product in three different conditions, and select the one with that yields the greatest sensitivity. With the upgrade to these controls, the detector also displays the expected sensitivities to the operator with all three metal types – ferrous, non-ferrous and stainless steel.
"You read about more and more recalls for metal fragments in packaged foods, which can cost money, customers and reputations," explained Barry Voorhees, Product Manager, Metal Detection, Bunting Magnetics. "The industry is demanding greater food safety protection measures be put in place and we responded with new optional controls on our tunnel-style detectors that amplify metal-detection sensitivities. Customers will also appreciate the color touchscreen and USB interfaces for quality control logs."
The unit on display will also include autoTEST™ which verifies the detector calibrations and sensitivities are being achieved without manually passing test blocks. AutoTEST is programmable for a variety of metal sizes and user-defined testing intervals.
Bunting Magnetics' tunnel-style detector can be configured to fit any conveying system and is available with standard reject systems and variety of aperture sizes to fit any packaged food. It will be showcased with other Magnetic Separation and Metal Detection offerings at Pack Expo 2017, Booth #6206.