MagSlide® Conveyors
Built to Handle the Tough Magnetic Conveying Jobs
Dirty and oily metal chips, parts, jagged or abrasive scrap, and other punishing materials that could damage or jam conventional belted or steel hinged conveyors are no challenge for Bunting's ruggedly constructed MagSlide® conveyors.
Save with Maintenance-Free Conveying
MagSlide® Conveyors are engineered for trouble-free, virtually maintenance-free operation. There's no external belts to jam, tear, or wear out from carrying sharp, abrasive parts and scrap. No need for labor-intensive supervision. No external moving parts to fail and compromise productivity and worker safety. Maintenance is minimal, and except for the electric motor, all moving parts are totally enclosed. MagSlide® configurations include horizontal, incline, and angled models with fixed and mobile bases plus hoppers, tanks, impact plates, and other options.
Get Outstanding Performance and Value
Rugged construction
Continuous chain lubrication with oil-impregnated UHMWPE SlideTrack™
Oil ports to allow extended chain service
High-energy Ceramic or Rare Earth Magnets matched to your application
Durable stainless steel slider beds with optional manganese
Sealed precision drive and take-up bearings
Designed with 3-D solid-model technology
Precision manufactured on CNC machines
Optional submersible housings
Heavy-Duty MagSlide® Conveyors
Ideal for use anywhere you need to transfer high volumes of ferrous chips, turnings, and small parts from lathes, mills, or stamping presses or from slitting, forming, and other metalworking operations. Chain-driven, permanently charged high-energy Ceramic or Rare Earth magnets inside the conveyor housing attract and move ferrous material along the conveyor's stainless steel faceplate with no external moving parts and without an oil filled bath. Optional water-tight housings can be submerged into almost any type of hot or cold liquid. The 8″ thick units come in 12″, 15″, 18″, 24″, 30″, and 36″ widths with optional hoppers and impact plates.
Style A   
Usually straight horizontal feeder conveyors under a large press bringing the scrap out to an inclined conveyor to the dumpster.
Manganese slider-bed option for additional wear resistance.
Up and over stairs and mezzanines available.
Style B   
Horizontal to incline brings scrap out from under press into a tote.
Standard fixed supports or optimal mobile bases available.
Strong ceramic or rare earth magnets on centers from 12″ to 36″ depending on scrap size.
Manganese slider-bed option for additional wear resistance.
Style C   
A nose-over unit as seen to the right for extending over scrap dumpsters.
Optional side guards or flared in-feed hoppers to direct scrap & chips onto the magnetic elements.
Taller side guards with drain tubers or perforated side guards for coolant.
Manganese slider-bed option for additional wear resistance.
Medium-Duty MagSlide® Conveyors
Horizontal to inclined conveyors are ideal for removing small parts, chips and scrap from machining centers throughout your plant.
Style A   
The 4 1/2″ frames come in 10", 12", 15" and 18" widths and are well suited for machining, milling, stamping, slitting and forming operations.
For especially demanding applications, powerful Rare Earth magnets can be substituted for the standard Ceramic magnets.
It is a simple straight horizontal or inclined conveyor to convey parts or scrap from a machine to a dumpster.
Style B   
It is a straight horizontal to inclined conveyor to convey parts or scrap from a machine to a dumpster.
These conveyors are also very commonly used in sealed submerged coolant applications or with coolant tanks included for quenching applications.
Style C   
Nose-over discharge extensions are ideally suited for discharging over totes or scrap dumpsters.
They are well suited for machining, milling, stamping, slitting and forming operations.
It is a straight horizontal to inclined conveyor with top horizontal extensions to convey parts over a dumpster.
Optional mobile bases are available.
MagSlide® Low-Profile    
This MagSlide® Low-Profile Magnetic Chip Conveyor captures and moves light ferrous parts and chips in tight spaces.
They incorporate key design features used in our Medium-Duty Conveyors but have space-saving 3 1/8" high frames that need less than 4 inches of vertical clearance.
Designed for use where space is limited and conveyed materials are relatively small, these units fit easily under press dies and at the discharge of many machine tools.
Magslide® Magnetic Chip Conveyors Application Guide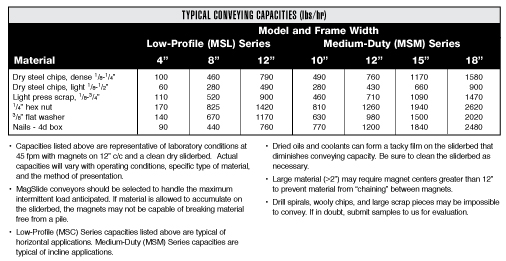 Capacities listed above are representative of laboratory conditions at 45 fpm with magnets on 12" c/c and a clean dry sliderbed. Actual capacities will vary with operating conditions, specific type of material, and the method of presentation.
MagSlide® conveyors should be selected to handle the maximum intermittent load anticipated. If material is allowed to accumulate on the sliderbed, the magnets may not be capable of breaking material free from a pile.
Low-Profile (MLS) Series capacities listed above are typical of horizontal applications. Medium-Duty (MSM) Series capacities are typical of incline applications.
Dried oils and coolants can form a tacky film on the sliderbed that diminishes conveying capacity. Be sure to clean the sliderbed as necessary.
Large material (>2") may require magnet centers greater than 12" to prevent material from "chaining" between magnets.
Drill spirals, wooly chips, and large scrap pieces may be impossible to convey. If in doubt, submit samples to us for evaluation.
MagSlide Conveyor – Technical Specifications