The Bunting Custom-Designed Permanent Crossbelt Separator Helps Pave the Way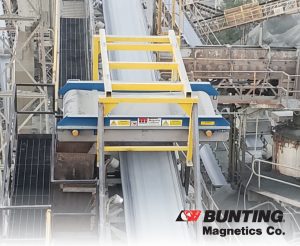 by Veronica Zuccarello
As summer rolls around the corner, it's important for thousands of families to make sure their vacation to Disney World goes off without a hitch. Junction City Mining helps make sure the road to their destination is smooth, supplying road building materials such as asphalt and concrete to construction companies throughout Florida and Georgia. They are one of the largest quarries in the state of Georgia, and they have recently decided to incorporate Bunting's PCB1206-EL Permanent Crossbelt Separator into their operations.
Junction City Mining required a truly massive structure to handle the mineral materials they work with, and Bunting engineers presented them with a custom-designed Permanent Crossbelt Separator equipped with a massive 36" conveyor. It boasts 11" burden depth, extracting 15 to 25 pounds of tramp metal at a time. The conveyor processes 4 to 500 tons of granite per hour, separating out tramp metal consisting of wear parts, bolts, and other scrap material that would detract from Junction City Mining's high standard of quality if it were to remain in their product.
"It's pulling blasting cap and all the dimensional tramp we were expecting," said Josh Conrad, Mine Engineer and Superintendent of Junction City Mining. The company is very pleased with the performance of the Permanent Crossbelt Separator and is interested in purchasing more magnetic equipment from Bunting in the future. The ability to remove metal contaminants by using magnetic separation protects their other equipment and ensures the purity of their product.
The Permanent Crossbelt Separator has a wide range of benefits, with perhaps one of the most appealing being its exceptionally durable construction.
The powerful magnet block of the permanent crossbelt separator is mounted in a heavy-duty steel frame and traversed with a vulcanized, cleated belt that runs on two crowned pulleys. Its self-cleaning system minimizes downtime and improves operational efficiency, which is increased even further by the low-maintenance requirements of the separator. Utilizing the strength of a powerful rare earth magnet, this piece of equipment has low operating costs and provides a cost-effective, dependable upgrade to your existing facility. It was the first separator in the industry designed specifically for use on the mobile crushers that are essential to the quarrying industry, and every inch of its design was developed with industry-specific concerns at the front of our minds.
Junction City Mining helps build bridges in the Southeast by supplying high-quality aggregate materials for construction. Bunting is excited to be building a bridge between our two companies by supplying heavy-duty magnetic separation equipment. If you're lucky enough to take a trip to Florida this summer, you'll enjoy a smooth drive thanks to the combined efforts of Junction City Mining and Bunting Magnetics Co. providing the Southeast region with the highest quality of paving materials for their highways.
If you are interested in utilizing a Permanent Crossbelt Separator within your own facility, contact a Bunting engineer to learn how we can develop a custom piece of equipment to suit your unique needs. We offer versatile mounting options, additional support structures, and custom-design each piece of equipment to fit your process perfectly. In addition to the Permanent Crossbelt Separator, we also have a wide range of other equipment specifically developed for the needs of our customers in the aggregate, mining, and mineral industries.