Bunting's MagSlide® Conveyor for Metal Stamping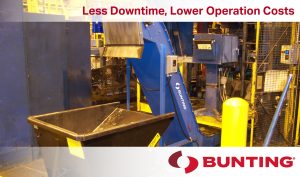 by Veronica Zuccarello
Bunting has created an extensive line of magnetic conveying equipment designed to support diverse needs within the metal stamping industry. All of our equipment is designed to seamlessly integrate into your existing operations and maximize conveying efficiency. Our MagSlide® line alone features an incredibly wide range of equipment options.
All MagSlide conveyors are designed to handle the most punishing materials in the industry, such as dirty, oily steel chips and jagged, abrasive scrap ferrous material. While these materials are known for damaging and jamming conventional belted or steel hinged conveyors, they are no match for the rugged construction of Bunting's MagSlide line of conveyors.
Harness the Power of Magnets: Magnetic Conveyors and Metal Stamping
The construction on our MagSlide conveyors is designed to minimize maintenance while maximizing productivity and this philosophy extends to all design aspects of the equipment. There is no need for labor intensive supervision, as there are no external moving parts to fail and compromise productivity and worker safety. Aside from the electric motor, all moving parts on the MagSlide are completely enclosed. MagSlides also feature a sealed precision drive and take-up bearings. They are designed with 3-D solid-model technology and precision manufactured on Bunting's CNC machines.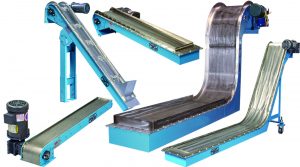 The MagSlide was also designed specifically to avoid the common problem of leaky slider beds. All MagSlide conveyors feature a unique chain track with oil impregnated UHMW material that minimizes friction and reduces the risk of leaks. They also are designed with oil ports to allow for extended chain service.
MagSlide conveyors don't rely on belts that are at risk of cutting, breaking, or wearing out. Instead, we utilize powerful, high strength magnets inside our conveyor slider bed to increase performance and completely eliminate the need for less reliable belts. We meet with you to discuss the exact needs of your application, and then implement either ceramic or rare earth magnets based on your needs for your metal stamping operation.
Our MagSlide conveyors are available in heavy-duty, medium-duty, and low-profile varieties. There are three different styles (A, B, and C) available for both heavy-duty and medium-duty conveyors. We have extensive customization options available for all of our conveyors, including optional submersible housings and an optional manganese add-on for our durable stainless steel slider beds.
If you are curious as to what the best Bunting conveyor for your application might be, you can find out quicker than you think. We have an advanced on-site testing facility where you can submit your material to us and we will test it on a variety of equipment. We record video, take photographs, and provide extensive written documentation of all tests that is shared with you as soon as the testing is completed. Upon going over this test information with you, we are able to give you the best possible recommendation.
To learn more about our MagSlide conveyors, our additional metal stamping equipment, testing facilities, or to speak with a sales representative today, Contact Us Here.