Magnetizers Featured at UK Engineering Design Show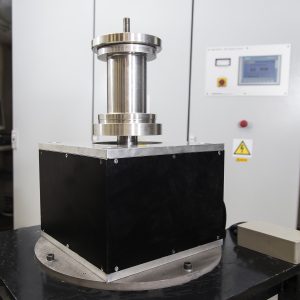 The ability to design bespoke magnetizing fixtures for post-assembly magnetization will be the focus for Bunting Magnetics on stand C22 at the Engineering Design Show on October 17-18, 2018 (Ricoh Arena, Coventry, UK).
Bunting Magnetics is a world leader in the supply of Magnetizers (Chargers) and Fixtures, Bespoke Technical Magnetic Assemblies, and Magnets. The European manufacturing and design headquarters for these magnetizers are based in Berkhamsted in Hertfordshire.
These magnetizers and fixtures are made exclusively by Bunting Magnetics Europe in Berkhamsted and nowhere else in the world. 
Permanent magnets and magnetic assemblies are fundamental to the operation of electric motors, wind turbines, computers, and cars. There is a rise in the product design of new technology that relies on high-intensity magnetic forces. However, very strong permanent magnets, such as Neodymium, are difficult and dangerous to handle.
Post-assembly magnetization of permanent magnet assemblies offers many advantages in the design and manufacturing process. There are considerable savings in assembly time due to the difficulties of handling charged magnets. This also improves the safety and health of the workforce by removing the need to handle dangerous magnetized parts. Additionally, it is easier to safely store a magnet assembly if it has not been magnetized.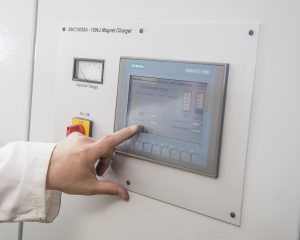 The ability to model magnets after magnetization during the design phase is an invaluable tool in assessing the feasibility of post-assembly magnetization. Bonded isotropic permanent magnetic rotors and sintered Halbach permanent magnet rotors are both ideal for post-assembly magnetization.
There are a number of key design criteria to consider when magnetizing sintered Neodymium Iron Boron (NdFeB) magnet rotors. The design process must include consideration for saturating the pole transition regions. The right energy required to saturate the whole rotor is also fundamental to the design. In order to achieve post-assembly magnetization, a compromise in the system design may be needed.
In all projects, the method of magnetization should be considered as early as possible in the design phase.
Bunting Europe's engineering team, based at the UK headquarters in Berkhamsted, are tasked with designing magnet assemblies that can be magnetized post-assembly. Using onsite magnetizers and modeling, the engineers are able to determine the optimum configuration for a specific application. This UK-based expertise is a unique service in the industry. 
Bunting's engineers will be at stand C22 at the Engineering Design show on October 17-18 to discuss and offer advice on specific magnet applications.
To learn more about magnetizers for post-assembly magnetization, or to locate a Bunting representative in your area, please contact Bunting Magnetics.