Product Manager Spotlight: Marc Suderman – Magnetic Separation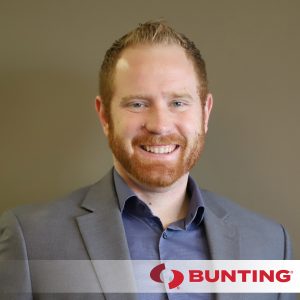 by Veronica Zuccarello
The people who work at Bunting are the greatest source of our strength as a company. Due to the diverse range of products our company offers, it is essential that we are equipped with a team of knowledgeable product managers. To showcase our product managers, we are posting a series of spotlight blogs based on interviews we have conducted with them. We're excited for you to learn more about the many fantastic people we have the fortune of working alongside each day at Bunting. Meet Marc Suderman, our Magnetic Separation Product Manager!
Bunting and the Power of Family
Bunting has been a family-owned, family-operated business from day one. Founded by Walter Bunting in 1959, the company is now led by Walter's son, Bob Bunting, who serves as president and CEO. Bob Bunting's son, Robert Bunting, Jr., is also employed by the company, serving as the General Manager of Bunting-Elk Grove Village. However, it is not just the Bunting family who has established a father-son legacy within the company. Project Managers Don and Marc Suderman are another example of a father and son working together within Bunting. Don Suderman has been with the company since 1982, primarily working in design engineering, and is currently the product manager for Material Handling. His son, Marc Suderman, is currently the Product Manager of the Magnetic Separation group.
Growing Up with Magnets
"You could say magnets are in my blood," says Marc. "I remember as a child, I would come home to look at brand new pieces of equipment that my father had worked on. Even though I was young, he would still take the time to explain the equipment to me in detail. Today, I am proud to be in charge of pieces of equipment that my father helped design, in addition to being able to lead new innovations in equipment design and manufacturing."
Marc's interest in magnets was sparked by his father at a young age, and that spark stayed with him throughout his life. After graduating from Marantha Baptist University in Wisconsin with a degree in Marketing Management, he worked as a sales territory manager in an industry that is heavily touched by magnets—the food distribution industry.
Powerful Magnets: Solving Problems in the Food Industry and Beyond
"Many people are unfamiliar with what magnets can accomplish, and how powerful they can be," explains Marc. "We can solve many problems in today's world by using magnets. For example, in the food industry, magnets are used to separate harmful metal contaminants out of food. There are many different grades of magnet on the market, and it is counterproductive to assume all magnets are the same."
After several years working firsthand in the food industry, Marc returned to his roots at Bunting, where he took on the role of Product Manager of Magnetic Separation. "The Magnetic Separation group serves so many industries, including food, plastics, recycling, and more," Marc says. "In my time at Bunting, I've visited an incredibly diverse range of customers, and I find it incredible how many different plants I have had the opportunity to go in. It really opens your eyes to see how so many every day products are made, and how Bunting plays a part in that."
Modern Solutions for Modern Problems: Magnetic Separation and the Plastics Industry
While Marc serves a wide variety of industries, one of the largest industries he serves is the plastics industry. One major problem within the plastics industry is the issue of plastic regrind. "Every major company that uses plastic in some way is vowing to help cut the plastic waste problem by incorporating plastic regrind material back into their process," Marc explains. "We can help those companies achieve that goal by ensuring there is no metal contamination in their plastic regrind." 
Customer Driven Magnetic Separation Solutions
The plastics industry has had a bond with Bunting for a long time, namely, because of Bunting's FF Drawer Magnet. "This product has been an industry staple for decades. It is extremely encouraging when you walk into most plastics companies and see Bunting FF drawers throughout the plant," Marc says. "I am proud that our company is known for making equipment people can count on, and I am especially proud of our ability to provide customers with custom-designed solutions. It is always my goal to make the sales process as painless as possible for the customer.  I love that our custom-design capabilities allow us to walk the customer through the process so they can get exactly what they want."
When asked about his goals for the future, Marc says, "I hope that we can become the North American go-to specialists for metal contamination in the plastic recycling and molding industries in the next five years. While I've grown up with magnets, I understand not everyone has the knowledge of what magnets can do. I am eager to introduce more people to their incredible capabilities as I continue in my role as Product Manager of Magnetic Separation."
To learn more about Bunting's magnetic separation products, Connect with Marc  or Contact us directly